Le QuecumBar presents:
Valentines Concert Cabaret Special - Nell & the Hot Mess Muggers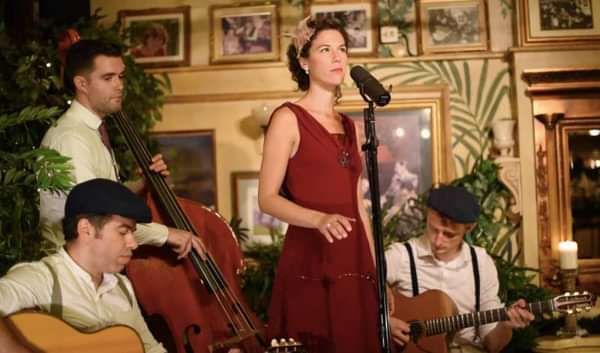 Valentines Day SOCIETY SOIRÉE, CAFE CABARET, DINNER - Come and get loved up to Nell & the Hot Mess Muggers music from 7.15 pm- 8. 15 pm 9.15 pm - 10. 15pm ♥'Love is in the air'! ♥
You can book your tickets for either sitting (the £12 ticket money – goes directly to the musicians): either book for 1st sitting: 6.30pm - 8.30pm, or 2nd sitting: 9.00pm to finish
Minimum spend on food is £33 pp for the 3 course set meal (drinks not included) music from 7.00PM
Wine and dine to the beautiful, enchanting and romantic Nell & the Hot Mess Muggers
Menu Smoked Salmon and horseradish sauce Escargot in garlic butter Pan sauteed Squid and chorizo Endive apple blue cheese walnut salad
Le QuecumBar Coq Au Vin Pulled Venison in pastry Minted Lamb shank Vegetarian Wellington Oven baked Salmon cutlet Traditional Savoie Tartiflette
Pecan Roulade Tarte Au Citron Tarte Au Pomme Home made Tirimasu
We reserve the right to swap menu items
We have had several couples propose here and subsequently get married. Voted as one of the most romantic places in London for a first date!
A sparkling romantic night of chic 30's 50's elegance, fusing Gypsy-jazz rhythms with chanson favourites. Nell & The Hot Mess Muggers love causing a foot stomping hot club stir and to set the romantic scene.
Nell Greco found her voice amongst friends, singing and dancing the night away in London's secret salons to some of the hottest Gypsy swing in town. Now, she leads her own Hot Mess Muggers through manouche-inspired jazz and chic French numbers, to not only entertain, but also energise audiences with their joie de vivre!
We reserve the right to charge a minimum spend for this evening of £33pp Tickets @ www.quecumbar.co.uk