Le QuecumBar presents:
Giulio Romano Malaisi Duo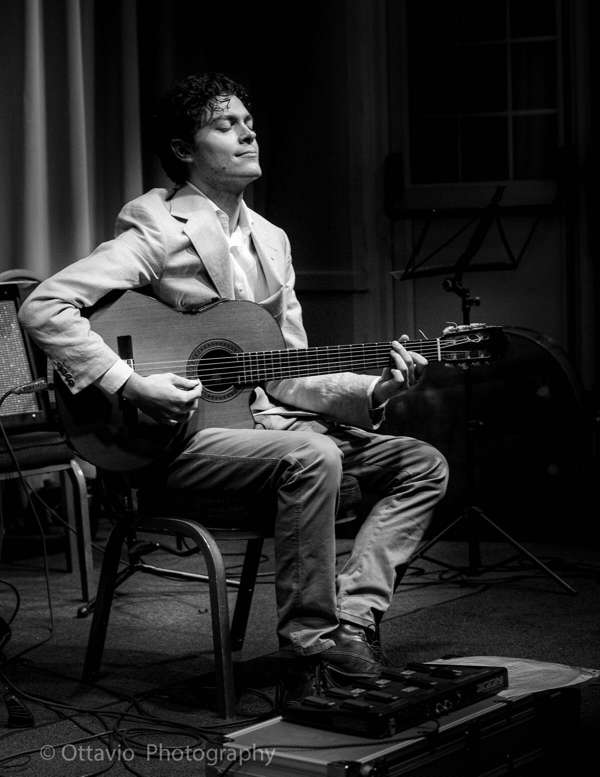 Giulio Romano Malaisi journey into the world of the guitar starts at the age of 10 at the Gilfredo Cattolica music academy, where for the next ten years he would learn the classical and electric guitar from his teacher Mariano Gaetani and study musical theory under the tutelage of Alfredo Sorichetti. In those ten formative years, Giulio developed an incredible capacity to communicate with his instrument, creating and honing a unique style, mixing fingerpicking and flatpicking techniques - ultimately obtaining scholarships and achieving acclaim from the local music scene. He also took part in many cultural events, for instance as a guitarist for the Italian journalist Giancarlo Trapanese and the Italian writer Maria Lampa, playing at many locations in Italy as part of their book tours. It was during this incredible time that his path would allow him to meet the multi award winning guitarist, Antonio Forcione. Forcione was to be one of the most significant inspirations and influences on Giulio, ultimately encouraging Giulio to pursue his career abroad. At the age of 18, Giulio Romano made the move to London (UK) where he quickly gained work as a session player, concertist and composer - collaborating with top musicians from all over the world. These included such luminaries as: the world harmonica champion (Jazz category) Greg Miller; the grammy man Phil Ramacon; the pianist songwriter and producer and founder of the VJB Wayne Brown; Lee John (Imagination);Moreno Viglione (Awarded Italian Guitarist), Rocio Ruano (X factor 2013), and amazing singer (ex zero 7) producer and founder of the Numen Records Mozez, Osmond Wright. Giulio has also had the pleasure of playing for and with high profile singers such as: Kate Robbins; Pauline Catlin (formerly of Brown Sugar Reggae Band); and Melanie Stace. As Giulio's profile grew, he was invited to play in many top venues and festivals across the UK, such as: Pizza Express Jazz, Ronnie Scott's, T4 On The Beach, Soundbite Festival, Jazz Le Quecum Bar. This exposure also led to him being privately commissioned to play at high profile cultural and charity events at venues such as: the Claridges Hotel; Tate Modern Gallery; The Forge; to mention but a few. Notably Giulio recently played at a gala performance to Italian Fashion at the Royal Academy, which included among the honoured guests, the Italian Prime Minister and major figures from the world of Italian and international Fashion. Giulio is One of the best regulary guitarist that we have at Le QuecumBar and he will be perform as Duo, a repertory of Gypsy Jazz and Swing.