Le QuecumBar presents:
European tour of Argentinian, Gonzalo Bergara's show "Django Meets Piazzolla"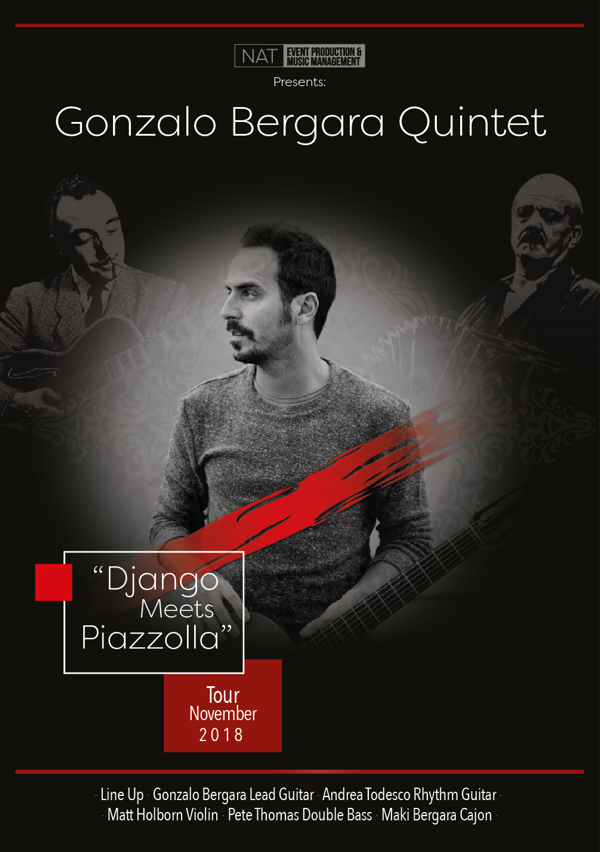 THIS NIGHT IS SOLD OUT - TICKETS ARE AVAILABLE FOR 2 DECEMBER THE FINAL NIGHT OF THE TOUR
PLEASE CALL DAY TIME FOR ANY CANCELLATIONS WE MAY HAVE ON THE NIGHT OF THE 11TH NOV
Direct from Argentina, European audiences are set to be thrilled this autumn, as Argentinian guitar virtuoso Gonzalo Bergara hits our shores with his unique concept show - "Django Meets Piazzolla" two musical styles, two cultures, and two different ways of expressing music. This passionate and explosive musical experience takes the Hot Club Gypsy Jazz sound of the legendary Django Reinhardt and fuses it with the harmonic legacy of renowned Argentinian Nuevo Tango Composer Astor Piazzolla. Bergara's original compositions and arrangements interpreted by his lightening-fast hands - the result, a truly original and spectacular musical style and performance.
Gonzalo Bergara is one of Argentina's most renowned virtuoso lead guitarists and composers. He has emerged in the last ten years as a significant talent, merging the passionate sounds of his home country with the Gypsy swing sounds of 1930s Paris. Harmonically unique and artistically breathtaking, his music has already taken Argentina and USA by storm, and is set to do the same in Europe. For this unique European tour celebrating the music of Django and Piazzolla, Gonzalo Bergara will be joined by three of some of the most sought after and accomplished jazz talents in the UK and including his brother Maki Bergara on cajon. : Andrea Todesco - rhythm guitar, Matt Holborn - on violin, Pete Thomas - double bass. This show will perform in multiple venues in four countries, each night of the tour will be a unique experience, due to the spontaneous style of the music, rich with improvisations, energy and passion.
The European Tour, produced by Natascia Perrini, starts in London 11th November and ends in London 2nd December 2018. This is a show not to be missed!
PS. We do encourage our guests to enjoy a full experience with music, food and drink on offer in the venue. It is thanks to our food and drink revenues that we are able to consistently book world class artists in intimate venues and keep the Live Music "Alive" - Thanks for understand our policy about a minimum spend on food and drinks £25. There is no need to book a table because it is automatic with ticket purchase.