Le QuecumBar presents:
Django's Birthday - Gary Potter, wizard of Swing + introducing Londons Gypsy band The Galicio Trio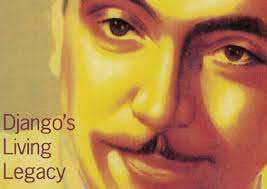 Djangos double bill Birthday Celebration Swing like Django - this year we start the celebrations with a double billing, of Le Q Patron GARY POTTER Quartet - UKs finest Django style wizard of Swing supported by Londons newest Gypsy, band THE GALICIO TRIO Guitars and accordion - Nunu, Diego and Bambi -representing the Gypsy heritage of Django, playing Gypsy, Gypsy Swing, Jazz and a mix of traditional cultural Gypsy tunes.
Why not come with friends and enjoy a 4 person special ticket @ £78
Gary will be joined by Norreen Cullen on violin and Le Q Patron Ducato on rythm guitar with Nick Karul on double bass completing this hot swinging quartet.
Wine & dine with us and soak up an amazing swing filled Django celebration night. Be prepared to swing in your seats with this hot line up. Gary plays with an unique infectious joy and a style his own, jumping seamlessly from Django Gypsy style to finger picking country style never missing a beat or straying from the melodie of Djangos tunes and much loved timeless swing numbers. Seating allocated on arrival
Two nights of UKs finest wizard of Swing with the legendary Gary Potter Quartet
Every year we celebrate Djangos birthday in style the Django way traditional Swing guitar as it should be ... Hot rythms - melodic swing - lyrical seductive swing arrangements and stunning improvisations from Gary, tonight supported by a stonking new band of special guests the London Gypsy band The Galicio Trio Be prepared to be swinging in your seats with this first time unique line up .........................................
If you miss Sunday Gary will be here again on Monday
For those long time fans out there here is some original footage of Gary Potter 1990 from the documentary Djangos Legacy https://www.youtube.com/watch?v=Su5zfh---6k Seen jamming with Gypsy Jazz legends: Serge Krief, Stochelo Rosenberg, Bireli Lagrene, & Babik Reinhardt jamming
Please be aware about our policy during the evening: When nec we reserve the right to implement a £25 pp minimum spend on ticketed concert nights to be able to support our 5 star musicians, as the musicians receive ticket monies .