LONDON'S WORLD PREMIER GYPSY SWING - JAZZ MANOUCHE RESTAURANT SWING JAZZ VENUE
.....dedicated to the world's finest Gypsy Swing/Jazz guitar genius.
Belgian Gypsy, DJANGO REINHARDT.
-
NEWSFLASH 15 DECEMBER
We are forced to close once again for the third time this year from Wednesday 16th December - we have no idea when we will be allowed to reopen, the Gov as usual is controlling our business and remains silent
LAST NIGHT BEFORE LOCKDOWN TUESDAY 15TH JAM SESSION COME EAT DRINK AND CELEBRATE LIVE MUSIC BEFORE ITS GONE FOREVER ...we will see you all in 2021 hopefully ....
-
WATCH THIS SPACE
We have adjusted our hours in line with Government restrictions.
We are now not allowed to serve drinkers only - all are obliged to have a SUBSTANTIAL MEAL
We will continue when reopening to offer our early bird special for those who wish to order before 7pm at only £29 cash deal for 3 courses and a glass of wine.
-
LIVE MUSIC IS NOW 7.30 pm - 10.30pm UNTIL FURTHER NOTICE - last drinks orders are now 10pm and all must leave by 11.00pm - food can be ordered from 5pm until 9.30pm our last table booking time is 9.30pm
-
UNTIL FURTHER NOTICE if and when allowed to open we are forced by the government to have very limited table use, we can only accept bookings for diners wishing to have at least 2 courses each, please BOOK YOUR DINING TABLE FOR AS EARLY AS POSSIBLE and arrive on time to ease service and exit time of 11pm - we are threatened with fines if customers are not out by 11pm - please help us by ordering promptly and departing on time - Government says - masks on at all times except when sitting at your table
-
Only book a table to have a full dining and music experience.
-
We have always been table service - please do not come to the bar, as this is also banned by the government.
-
IN ORDER TO HELP FACILITATE EVERYONES SPEEDY EXIT AT 11PM PLEASE PAY IN CASH - as we have only one card machine
-
Delicious GARDEN open and for hire and seats 30 persons
Shisha and Hookah
Our fabulous speciality dish - Tartiflette de Savoie is now available as "TAKE AWAY" and its mushroom veg option plus other menu favourites.
Daily Early Bird Special - now 5-7pm 3 course meal + glass of wine £29 cash plus service for fab staff
Thursday Special -Trad Coq Au Vin £12
Sunday Special - Half Roast chicken & Veg £12
-
Book now to wine and dine and enjoy live music whilst you can - please check our music calendar for gigs and ticketed concerts nights - when you do not need to book a table as that is automatic with any ticket purchase.
-
NEW HOURS AS PER GOVERNMENT FORCED CURFEW
Every day from 5PM - 11PM last drinks orers 10pm food 9.30pm
FABULOUS garden to chill or hire
-
Food orders taken until 9.30pm
-
available for private hire
-
It is clear many businesses such as ours have already disappeared silently - they will slip away without people even noticing, never to return - we urge you all to lobby your MP to stop the breach of rights we have all been subjected to and save your hospitality and music industry
-
Live music future still hangs by a thread...please pass the word and check out our fund raising initiative Le QuecumBar Crowdfunder page
-
We have hosted approx 17,680 musicians since opening 17 years ago and served well over 200,000 customers that have enjoyed MUSIC MOOD WINE AND FOOD
-
Please spread the word and contribute to help keep live music live at Le QuecumBar Crowdfunder page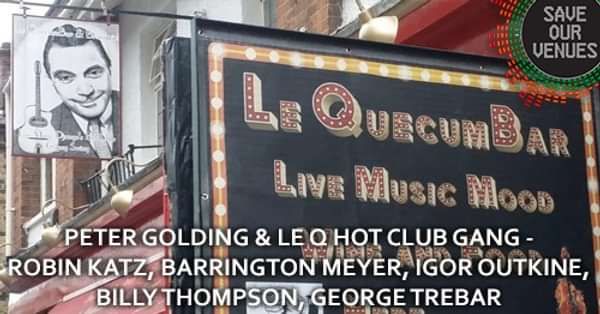 Capturing the magic of live swing music at Le Q
A fund raising archive film viewing, of lost and found live performance from 2004 courtesy of Peter Golding and the Hot Club Gang to help raise contributions for Le QuecumBar. Get a taste of a hot night at Le Q ..
For customers, live music fans and MUSICIANS - who can join in and fund raise, by live streaming, helping to save a venue of their choice and raise their own profile at Save Our Venues
-
Please share our crowd funding link ....After all, we exist to support musicians and their music. A task being made harder and harder by the governement forcing us to shrink our hours and capacity on an already struggling industry
-
NEWSFLASH We are absolutely gutted that we are forced to close again 16th December - Tom Seals will be here Sunday Feb 7th 2021 Learn more here and book a ticket now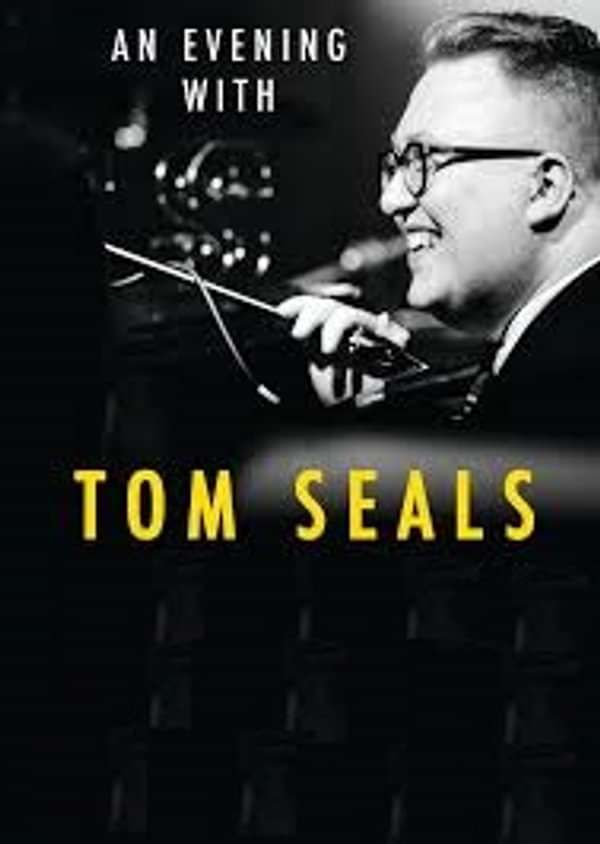 TOM SEALS wild boogy woogie rock and roll piano and vocals - catch his cabaret dinner show ...get a great taster click here for one of Toms isolation shows
-
"Le QuecumBar is unique and provides an irresistible combination of live music, great food and hospitality in a setting as alluring as a coquette's boudoir.…. The interior evokes the faded elegance of pre-war Parisian café society and hosts performances by some of the world's greatest acoustic guitarists" Live in London
Enjoy generous servings of hearty, not haughty food and wine and instantly be transported to a sizzling 30s Paris atmosphere and soul, whilst listening to the best of Hot Club Gypsy Swing/Jazz, without having to fly, pack a toothbrush or leave the very heart of Battersea....
---
Whether you lounge in the garden or wine and dine to our Django Reinhardt style Hot Club music and other Gypsy flavoured and vintage Swing and Jazz, take a relaxing trip, where no passport is required and time seems to stop for long enough to make some lasting memories.
Savour our delicious and most popular signature dish-
Tartiflette Savoyarde with Reblochon Cheese, paired with a great white wine. We now offer a vegetarian option of this famous dish!
**DAILY EARLY BIRD SPECIAL - 3 courses with a glass of wine
every night 5pm - 7pm ** BOOK NOW
Min 2 persons max 4 (£5 supplement for steak) plus service - cash only

Our romantic garden is ideal for quaffing wine, sumptuous sundowners and for private hire. Drop by for cool drinks and hot music.
-

If you have any questions please call us on 02077872227
Performances approx. 7.30pm -10.30pm to comply with 11pm closure re covid rules (A sample of our music listings are at the bottom of this page - daily listings on the music calendar tab, top of this page )
---
ANTONIO FORCIONE
Solo guitar legend - up close and personal performance
We had a fabulous concert from Antonio 13 December, it was great to see so many of you here supporting Antonio and live music. Thank you we are hoping to schedule him for a return concert in March 2021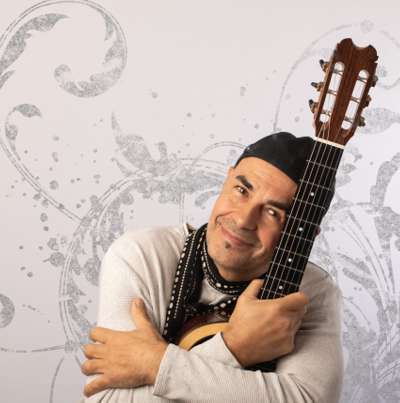 ---
Take a virtual walk through our venue and garden by clicking on the link below.
- Click on the link and the play button - on the way round you will see blue circles, click on them for more content.
---
In 2010 we hosted, in style, the first ever Gypsy Jazz Festival of London a totally sold out event.
---
It was a 9 day Jazz Manouche event with 36 Gypsy and non Gypsy musicians from 5 countries all in celebration of Django's 100th Birthday - the first ever LONDON GYPSY JAZZ FESTIVAL. Our Le Q Records label recorded the event on a triple CD album, featured on the left of this page. We thank all who supported us and helped make that magic happen.
We celebrated our 17 years of Gypsy Swing Heaven on Mon 10th February 2020 with the MAGNIFICENT 7 - however it became 8 - of the Original QuecumBar Allstars an amazing night of Gypsy Swing full of energy passion swing and sheer joy ....watch out they are back 2021
My London – Evening Standard – Cressida Bonas says, "What's the most romantic thing someone's done for you?"
"I love being taken to jazz bars and particularly a wonderful club in Battersea, called Le QuecumBar. I always have the perfect evening there — it's intimate with live Gypsy swing music. "
Wedding reception review
We chose Le QuecumBar for our wedding reception and everything went beyond our expectations.
If you are looking for a venue with a real soul and a great atmosphere, this is the place... On arrival Sylvia, and the team welcomed us all with a 'state of art' Bellini, then we had the buffet which was very good quality, generous in quantity and so much variety (a brilliant combination of European, North African and Asian dishes).
... the atmosphere was magic. ....our guests enjoyed the beautiful rear garden .. with the beautiful plants and the lights ...
All our friends were so happy they discovered such a hidden gem in London.
Thank you ...for having made this day truly special and unforgettable!**
See contact tab for all private hire details
Our weekly calendar of all our music is on the above top left music calendar tab
SEE A SAMPLE OF OUR MUSIC SPECIAL EVENTS BELOW
A PERFECT VENUE TO CATCH UP WITH FRIENDS, RELAX WITH TABLE SERVICE, EAT WELL, ENJOY FREE LIVE MUSIC OR A TICKETED SPECIAL EVENT CONCERT, QUAFF A GLASS OF WINE, HAVE A PRIVATE SOIREE, LOCATION OR PHOTO SHOOT
An informal dining experience. Enjoy fine live music whilst experiencing nostalgic Parisian soul in the heart of Battersea, with live Gypsy Swing, music, mood, wine and food!
Book your table to dine for non ticketed nights, on the left – We do not take table bookings for drinkers, just drop by if it's for drinks only.
Soak up a swinging night at Le Q. Outside of winter months we have an enchanting romantic fairy lit garden, the perfect hide away to rendezvous.
Ladies, get away from the guys or enjoy a romantic date enveloped in our 1930's Parisian atmosphere with sizzling world class concerts up close and personal – Seductive Bellinis, Chocolate Martinis, espresso martinis and other favourites or wine for all tastes and pockets.
Free parking after 4.30pm – or just a 20 minute stroll over Battersea Bridge from Chelsea and Kensington or from Clapham Junction, 170 bus route Victoria to Roehampton, other various bus routes.
LISTEN, DRINK, EAT, AND ENJOY
Due to government rules from 26 Nov 2020
Music performance is approx 7.30pm - 10.30pm re Big G closing rules AND ALL OUT BY 11PM
Tuesdays open 5pm – 11 pm - performance 7.30 pm - 10.30 pm FREE all evening, Gypsy Swing jam session. Spot the latest talent on the Gypsy Swing scene!
Wednesdays are currently Mish Mash £6pp on the door music 7.30pm to 10.30pm each Wednesday could be a mix of country/folk/soft rock/blues etc
Thursday open 5pm -11pm, FREE for before 8pm arrivals £6pp from 8pm
Friday and Saturdays open 5pm – 11pm FREE for before 8pm arrivals £6pp from 8pm
FREE live music all evening, if you arrive before 8pm, just £6pp from 8pm, sometimes special events are planned for mid week, these will be ticketed nights. Please check the music calendar tab top of the page.
Sunday and Mondays open 5pm -11.00pm – performance 7.30pm - 10.30pm
Ticketed Prestige Performance Concerts/Special Events, buy your ticket here and your table to dine will be waiting. We play host, to some of the world's best of the Gypsy Swing genre with many of the world's top Gypsy players gracing our small intimate stage.
We reserve the right, when necessary to implement a minimum spend of £25pp on food and drinks on ticketed cabaret concert events, as the musicians receive all the ticket money.
Below is a sample of upcoming performances including live stream #saveourvenues performances - the music calendar at the top of this page lists all performances by date
By signing up you agree to receive news and offers from Le QuecumBar & Brasserie. You can unsubscribe at any time. For more details see the privacy policy.
JOIN US FOR MUSIC MOOD WINE AND FOOD, BOOK YOUR TABLE TO DINE
From 26 Nov - The government has restricted table space at all food/bar venues therefore only "book a table" if you wish to eat 2 courses per person full meals. We are only allowed to serve alcohol with a substantial meal. Please book early and arrive on time as all customers must leave the premises by 11pm - last drinks orders before 10pm only with food, this is not what we want it is current forced government back door curfew legislation. Last drinks orders are before 10pm - from 26 Nov we are not allowed to serve just drinkers all are required to have a substantial meal until firther notice
Drinkers or snackers, we are prevented by the government to serve.
Any concert ticket purchase includes your table to dine. Our live music is FREE all night @ Tuesdays Gypsy Swing Jam session - Wednesday we have a new music night please check the calendar its £6pp cash on the door and on Thur Fri or Sat for before 8pm arrivals the music is FREE, from 8pm it's £6pp music cover charge - Any phone booking we will require a card to secure - no shows and late cancellations will be charged at £15 so please be considerate and kind enough to cancel your table booking within 48 hours if you cannot make it. Thank you we look forward to seeing you whether a regular or new customer and we will try to have fun in spite of the dictatorial government. Masks to be worn when not at your table and as always we only do table service for your pleasure.