LONDON'S WORLD PREMIER GYPSY SWING - JAZZ MANOUCHE RESTAURANT/JAZZ VENUE - Feb 2003 - April 2022
CLOSED - AFTER 19 YEARS OF MUSIC MOOD WINE AND FOOD
.....19 amazing years - dedicated to the world's finest Gypsy Swing/Jazz guitar genius.
Belgian Gypsy, DJANGO REINHARDT.

NEWSFLASH Oct 2023
In the last 3 months a company has registered itself as "QuecumBar Battersea Ltd" and applied for a drinks licence at the Le QuecumBar old premises in Battersea. This company has plagiarised my business name that was created in 2003 -this newly formed company is nothing to do with me or the former QuecumBar business at the premises - even though by name alone it infers, it has. QuecumBar Ltd trades as Le Q records that many of you know produced live recordings from Le QuecumBar the venue and was directly connected to the venue. The director of QuecumBar Battersea Ltd - wrote to me and claimed he had written several times to me and I had not answered - I never rcvd any correspondence on my email that is on this web site info@quecumbar.co.uk - in addition he wanted me to remove my account of my personal experience with the landlord and my experience of the landlord and tenants Act 1954 - he also wanted my domain name. I refused to remove anything from my website that I experienced first hand with the landlord and the landlord and tenants Act 1954, however did ask him to put his proposal in writing re my domain name and identify exactly what he said was not correct about the landlord and tenants Act - I have heard nothing since. He claimed my web sitre would clash with people searching for QuecumBar Battersea Ltd - I suggested he should not have plagiarised the name of my venue, a name that was created in 2003 when we opened. A name and strap line that is trademarked by me and by the fact I have used the name since 2003 when it was created for the venue. I have heard nothing back since that time .... I hope that licencing when granting a licence to this plagiarised company will impose the same restrictions as we had to deal with for 19 years - I have no doubt the name Quecumbar Battersea Ltd was used to apply for the licence due to the fact I had a 19 year good track record as Le QuecumBar - and a renewal of the licence in almost the same name would easily be granted .... I wait to see if this new company does indeed put any proposal in writing re using the name of my business etc I will post an update when one arises ..
Le QuecumBar hosted over 17,000 musicians since opening 19 years ago and served well over 200,000 customers that enjoyed our MUSIC MOOD WINE AND FOOD in our unique and quirky Parisian atmosphere. Le QuecumBars legacy is the music it has left behind on Le Q Record label - and can be found on the internet and you tube and other places - just take time to search and listen to some history
BEFORE CLOSING - WE WERE PROUDLY REGISTERED TO THE "WHICH?" CASH FRIENDLY PLEDGE guaranteeing we would keep taking UK legal currency of physical notes and coins and in order to stop the take over and control of our cash by the government.
-
NEWSFLASH 19 Sep 2022
Le QuecumBar was forced to closed its doors 6 April 2022, this also meant I was forced to leave my home of 19 years.
Sadly the business could no longer sustain the overheads nor afford to force the landlord to uphold our legal right to a new lease.
Taking him to court in order to exercise my rights was financially prohibitive and could have cost as much as 30 - 40 k- so much for having rights ...
The last 2 plus years with Covid forced closures and unrealistic trading restrictions - was way too much stress. I had no choice and held on for over 2 years – sadly the new landlord from April 2021 ignored all requests for my new lease that I am legally entitled to under the 1954 Act – all he had to do, was ignore all my attempts to get him to the table … inc gov commercial rent guidelines that were never enforced by the government.
I had been trying to extend my lease since 2016 as knew it was ending aug 2020 – as it happens, in the middle of covid lockdowns and limited trading rules for all and forced closures coupled with supply rising costs and loss of trade the venue could not sustain the existing rent and certainly had no future with the landlord wanting to almost double the rent during covid shutdowns/and post covid ...
The only way to protect Le Q and my rights to a new lease was to take out a court order which I did in Nov 2021 – he still ignored all requests to come to the table and merely wanted 75k plus in rent, an amount I could never manage (and was not comparable to other local business who were paying less per sq foot)– and in fact could not even manage the existing rent during 2021 and 2022, I was forced by the landlords refusal to negotiate to spend 20k on experts advice with zero progress and a time came when I had to withdraw the court application due to such inflated costs and the fact the landlord even failed to comply with the courts order to supply a draft lease to me by the 8 April 2022 - to continue that court case could have taken another few years and another 30 k I did not have etc on top of the stress, this was compounded by the fact I could not then afford the existing rent for the remainder of 2021 and 2022 due to costs paid out to try and protect my rights. My new landlord from April 2021 was viralpala@yahoo.com Registered office VSP88 Limited 291B Melton Road, Leicester, LE4 7AN Le QuecumBar has been empty since April 2022 when I was forced to leave ... I returned the keys to him by post around April 25th and I have heard nothing from him since except an invoice for May 2022– he also took out a stat demand against me for the rent I could not pay due to his ignoring of my rights and the 20k plus I was forced to spend on experts/court fees etc and took me to court with the aim of also making me bankrupt - a pointless exercise as I had lost my home and my business and did not plan to work any more... All the experts that were paid well by me, failed to help with any solution and their fees had to be taken from the rent money I had set asside for the landlord - however what none of those experts told me, was that all he had to do, was nothing ….and only I, would be forced to make a court application and pay a lot of additional money to avoid eviction action from the landlord etc
This business has always been here for the love of the music and was an expensive hobby I could no longer sustain in spite of my love of the music - I have no doubt the latest landlord only wanted me out with a view to redevelop the site to make even more money – he has what he wants and I have no idea what will become of Le Q's home...
I have many happy memories that will last me a lifetime and plan to put more videos etc up on Le Q you tube channel and still promote Le Q records recordings that can still be heard and purchased on Spotify ….
I valued all the many customers who appreciated and valued the ethos of what we did for so long with little reward and of course all the musicians who played here... and our musical Patrons some of the best in the world of this genre - THANK YOU FOR THE MUSIC
Proud to have the support and approval of our world class musician patrons: Angelo DeBarre; guitar, French Gypsy. John Jorgenson; guitar, clarinet USA Dave Kelbie; rhythm guitar; UK John Etheridge; guitar, UK Lollo Meier; guitar, Dutch Gypsy Robin Nolan; guitar, UK Hank Marvin; guitar, UK Andreas Oberg; guitar, Sweden Stephane Wrembel; guitar, France Ritary Gaguenetti; guitar, French Gypsy Biel Ballester Trio; guitar, Spain Gary Potter; guitar, UK Moreno; guitar, French Gypsy Kevin Nolan; rhythm guitar, UK Aurore (Voilqué ) Quartet; violin, vocals, France Tommy Emmanuel; guitar, Australia Stochelo Rosenberg; guitar, Dutch Gypsy Tcha Limberger; violin, guitar, vocals, Belgian Gypsy Kussi Weiss; guitar, German Gypsy Aurelien Bouly; guitar, French Gypsy Ducato Piotrowski; rhythm guitar, Polish Gypsy, UK Titi Bamberger; rhythm guitar, German Gypsy
I have to seek a new home and new challenges but will still be working for Le Q records promoting the recorded musical memories from afar.
Thank you all for being part of the ingredients of so many magical moments - thanks to all the staff over the years who added spice and fun to the venue. If you want to see and hear some of those memories - just search for QuecumBar on the internet or on you tube ...the music lingers on and the CDs we produced are still out there for downloading and sharing ...
Wishing you all health wealth and happiness - keep on swinging and keep supporting live music before you lose every independant music outlet
If you are near Oxford visit the Isis farmhouse run by 2 of our loved musicians Noreen Cullen the voilin vixen and her partner the ever talented Adrian Burns - take a look around and you may see some memories of Le Q...
Testimonial from Jessies garden B'day party May 2021
Absolutely BRILLIANT!
I had my birthday party at Le QuecumBar and it was absolutely BRILLIANT! We were seated outside in the garden which is stunning - it's Londons hidden gem!! The atmosphere was stunning, and the service was brilliant. Sylvia and her team were extremely accommodating and friendly. Looking forward to returning again and enjoying their live music :)
-
Continue to support LIVE MUSIC AND MUSICIANS AND US - by listening to our music:
Search and listen to our Le Q Record label recordings on Spotify and Apple for example:
Stars of Gypsy Swing double album - Listen here Here you will hear Hank Marvin playing Gypsy Swing – Noto Swing from our double album Stars of Gypsy Swing – a great double album where all the tracks were donated for FREE - by our generous Patrons, to support and promote the world-wide Gypsy Swing music genre:
The Biel Ballester Trio *Woody Allens track from his Vicky Christina Barcelona *movie by our Patron The Biel Ballester Trio from Barcelona - live album recorded here – the movie track "When I was a boy" from our 1st and bestselling album to date with over 20 fabulous tracks demonstrating Biels own take on Gypsy Swing.
Here is more about Biel - [https://en.wikipedia.org/wiki/Biel_Ballester]
**Help by buying
downloads here on our store or just listen on Spotify to Le Q Records and all our QuecumBar recordings. **
-
Many businesses such as ours have gone forever, silently - slipping away without people even noticing, never to return - if you do not support your live music venues they will silently disappear 100s have gone already
-
-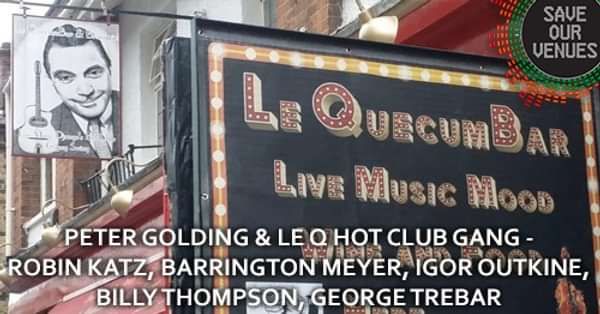 Capturing the magic of live swing music at Le Q
An archive film viewing, of lost and found live performance from 2004 courtesy of Peter Golding and the Hot Club Gang. Get a taste of a hot night at Le Q ..
-
We existed to support musicians and their music. A task made harder and harder by lack of government control over greedy landlords - and ignoring the fact that rent control is nec to stop landlords insisitng on what ever amount they want ...regardless of sustainability by any business
- Le QuecumBar was unique and provided an irresistible combination of live music, great food and hospitality in a setting as alluring as a coquette's boudoir.…. The interior evokes the faded elegance of pre-war Parisian café society and hosts performances by some of the world's greatest acoustic guitarists
You could enjoy generous servings of hearty, not haughty food and wine and instantly be transported to a sizzling 30s Paris atmosphere and soul, whilst listening to the best of Hot Club Gypsy Swing/Jazz, without having to take a PCR test, fly, or pack a toothbrush or leave the very heart of Battersea....
---
Whether you lounged in the garden or wined and dined to our Django Reinhardt style Hot Club music and other Gypsy flavoured and vintage Swing and Jazz, you could have taken a relaxing trip, where no passport was required and time seemed to stop for long enough to make so many lasting memories.
### Our romantic garden was ideal for quaffing wine, sumptuous sundowners and for private hire. With drop ins, for cool drinks and hot music. - ###
In 2010 we hosted, in style, the first ever Gypsy Jazz Festival of London a totally sold out event.
---
It was a 9 day Jazz Manouche event with 36 Gypsy and non Gypsy musicians from 5 countries all in celebration of Django's 100th Birthday - the first ever LONDON GYPSY JAZZ FESTIVAL. Our Le Q Records label recorded the event on a triple CD album, featured on the left of this page. We thank all who supported us and helped make that magic happen. Download can be bought here in our shop or on spotify
My London – Evening Standard – Cressida Bonas says, "What's the most romantic thing someone's done for you?"
"I love being taken to jazz bars and particularly a wonderful club in Battersea, called Le QuecumBar. I always have the perfect evening there — it's intimate with live Gypsy swing music. "
Wedding reception review
We chose Le QuecumBar for our wedding reception and everything went beyond our expectations.
If you are looking for a venue with a real soul and a great atmosphere, this is the place... On arrival Sylvia, and the team welcomed us all with a 'state of art' Bellini, then we had the buffet which was very good quality, generous in quantity and so much variety (a brilliant combination of European, North African and Asian dishes).
... the atmosphere was magic. ....our guests enjoyed the beautiful rear garden .. with the beautiful plants and the lights ...
All our friends were so happy they discovered such a hidden gem in London.
Thank you ...for having made this day truly special and unforgettable!**
See terms and conditions tab for all private hire details
Our weekly calendar of all our music was on the above top left music calendar tab
A PERFECT VENUE TO CATCH UP WITH FRIENDS, RELAX WITH TABLE SERVICE, EAT WELL, ENJOY FREE LIVE MUSIC OR A TICKETED SPECIAL EVENT CONCERT, QUAFF A GLASS OF WINE, HAVE A PRIVATE SOIREE, LOCATION OR PHOTO SHOOT
An informal dining experience. Enjoy fine live music whilst experiencing nostalgic Parisian soul in the heart of Battersea, with live Gypsy Swing, music, mood, wine and food!
Book your table to dine for non ticketed nights, on the left – We do not take table bookings for drinkers, just drop by if it's for drinks only.
Soak up a swinging night at Le Q. Outside of winter months we have an enchanting romantic fairy lit garden, the perfect hide away to rendezvous.
Ladies, get away from the guys or enjoy a romantic date enveloped in our 1930's Parisian atmosphere with sizzling world class concerts up close and personal – Seductive Bellinis, Chocolate Martinis, Espresso Martinis and other favourites or wine for all tastes and pockets.
Free parking after 4.30pm – or just a 20 minute stroll over Battersea Bridge from Chelsea and Kensington or from Clapham Junction, 170 bus route Victoria to Roehampton, other various bus routes.
LISTEN, DRINK, EAT, AND ENJOY
Music performances are approx 8pm - 11pm but open until 12 Thur, Frid, Sat Music is FREE all night to before 8pm arrivals - arrivals from 8pm £6pp
Tuesdays FREE all evening, Gypsy Swing jam session.open 6pm – Midnight - performance 8pm - 11pm open until 12 - Spot the latest talent on the Gypsy Swing scene!
Wednesdays open as usual live music perfromance TBC 8pm to 11pm each Wednesday open 6-12
Ticketed Prestige Performance Concerts/Special Events. We play host, to some of the world's best of the Gypsy Swing genre with many of the world's top Gypsy players gracing our small intimate stage on Sunday and Mondays ticketed events - buy your ticket and your table is waiting - open 6pm -12.00pm – performance 8pm - 11pm
We reserve the right, when necessary to implement a minimum spend of £25pp on food and drinks particularly on ticketed cabaret concert events, as the musicians receive all the ticket money.
By signing up you agree to receive news and offers from Le QuecumBar & Brasserie. You can unsubscribe at any time. For more details see the privacy policy.
JOIN US FOR MUSIC MOOD WINE AND FOOD, BOOK YOUR TABLE TO DINE
Sadly closed after 19 years of ...MUSIC MOOD WINE AND FOOD AS ALWAYS.
A sample of upcoming events