LONDON'S WORLD PREMIER GYPSY SWING VENUE SERVING.....
-
6 NIGHTS A WEEK
If you have any questions please call us 02077872227
Performances 8pm -11pm (Check out some of our special music listings at the bottom of this page - or go to the music calendar tab at the top of this page for all our daily listings)
-
Book Friday and Saturday between 6pm - 6.45pm
For our Early Bird Meal Special £29
3 course meal and a glass of wine
Min 2 persons (£5 supplement for steak cash payment only plus service)
---
ANTONIO FORCIONE solo guitar legend -up close and personal wine and dine cabaret
Click here for a glimpse of his musical magic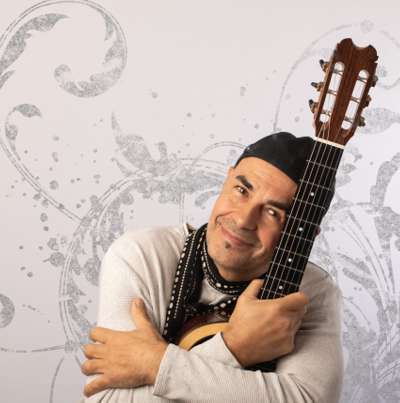 Due to popular demand - We are arranging another date for Antonio later in the year - watch this space .....tickets on sale soon - book early bird tickets for stage side seats ...
From the first moment Antonio walks on stage to rapturous applause, a humble smile on his face, guitar in hand, you know you are in the presence of a true artist and are in for an evening with a touch of magic. And as the first deep, warm, intense notes float through the auditorium, you can hear a pin drop and feel the sonic spell of his guitar weaving through the room. As one critic put it "Imagine an Italian hybrid of Michael Hedges, John McLaughlin and Django Rheinhardt ... ferocious, rampaging, controlled power, meticulous precision and clarity of expression ... astonishing musical personality"
---
---
Take a virtual walk through our venue and garden by clicking on the below
Click on the link and the play button - on the way round you will see blue circles, click on them for more content.
---
For all nightly gigs, ticketed events and full daily music calendar see; "MUSIC CALENDAR" tab, top of the page, second from the left or scroll down the page for a sample of our music programme, ticketed concerts/events.
Music is FREE to all, on non ticketed nights if you arrive before 8pm Thursday, Friday and Saturday and FREE all night Tuesday!
We ooze Parisian soul that sizzles in the heart of Battersea!
ENJOY SIMPLE GENEROUS SERVINGS OF MUSIC, MOOD, WINE & FOOD THAT'S HEARTY NOT HAUGHTY
"Le QuecumBar is unique and provides an irresistible combination of live music, great food and hospitality in a setting as alluring as a coquette's boudoir.… the interior evokes the faded elegance of pre-war Parisian café society and hosts performances by some of the world's greatest acoustic guitarists" Live in London
My London – Evening Standard – Cressida Bonas says; What's the most romantic thing someone's done for you?
*I love being taken to jazz bars and particularly a wonderful club in Battersea, called Le QuecumBar. I always have the perfect evening there — it's intimate with live Gypsy swing music. *
Wedding reception review
We chose Le QuecumBar for our wedding reception and everything went beyond our expectations.
If you are looking for a venue with a real soul and a great atmosphere, this is the place... On arrival Sylvia, and the team welcomed us all with a 'state of art' Bellini, then we had the buffet which was very good quality, generous in quantity and so much variety (a brilliant combination of European, North African and Asian dishes).
... the atmosphere was magic. ....our guests enjoyed the beautiful rear garden .. with the beautiful plants and the lights ...
Unfortunately the band we hired for the day let us down just few hours before, but we've been immediately supported in contacting the Gypsy Dynamite Trio and this literally saved our day....the music was great, we danced till late and had such fantastic moments.
All our friends were so happy they discovered such a hidden gem in London.
Thank you ...for having made this day truly special and unforgettable!**
See contact tab for all private hire details
Our weekly calendar of all our music is on the above top left music calendar tab
SEE A SAMPLE OF OUR MUSIC SPECIAL EVENTS BELOW
A PERFECT VENUE TO CATCH UP WITH FRIENDS, RELAX WITH TABLE SERVICE, EAT WELL, ENJOY FREE LIVE MUSIC OR A TICKETED SPECIAL EVENT CONCERT, QUAFF A GLASS OF WINE, HAVE A PRIVATE SOIREE, LOCATION OR PHOTO SHOOT
An informal dinning experience, enjoy fine live music whilst experiencing nostalgic Parisian soul in the heart of Battersea, with live Gypsy Swing, music, mood, wine and food!
Book your table to dine for non ticketed nights, on the left – We do not take table bookings for drinkers, just drop by if its for drinks only.
Soak up a swinging night at Le Q. Outside of winter months we have an enchanting romantic fairy lit garden, the perfect hide away to rendezvous.
Ladies, get away from the guys or enjoy a romantic date enveloped in our 1930's Parisian atmosphere with sizzling world class concerts up close and personal – Seductive Bellinis, Chocolate Martinis, espresso martinis and other favourites or wine for all tastes and pockets.
Free parking after 4.30pm – or just a 20 minute stroll over Battersea Bridge from Chelsea and Kensington or from Clapham Junction, 170 bus route Victoria to Roehampton, other various bus routes.
LISTEN, DRINK, EAT, AND ENJOY
Music performance is approx 8-11
Tuesdays open 7pm – 12 pm- performance 8-11 FREE all night, Gypsy Swing jam session spot the latest talent on the Gypsy Swing scene!
Wednesdays are available for showcasing, private soirees and surprise events!
Thursday open 7pm -12pm, FREE for before 8pm arrivals £6pp from 8pm
Friday and Saturdays open 6pm – 1am FREE for before 8pm arrivals £6pp from 8pm
FREE live music all evening, if you arrive before 8pm, just £6pp from 8pm, sometimes special events are planned for mid week, these will be ticketed nights please check the music calendar tab top of the page.
Sunday and Mondays open 6pm -1am – performance 8-11
Ticketed Prestige Performance Concerts/Special Events, buy your ticket here and your table to dine will be waiting, we play host, to some of the worlds best of the Gypsy Swing genre with many of the worlds top Gypsy players gracing our small intimate stage.
We reserve the right to make a £25pp min spend on ticketed events - as the musicians receive all the ticket money
Below is a sample of upcoming performances - the music calendar at the top of this page lists all performances by date
By signing up you agree to receive news and offers from Le QuecumBar & Brasserie. You can unsubscribe at any time. For more details see the privacy policy.
BOOK A TABLE TO DINE below
We take drinkers as walk ins.only When purchasing a concert ticket your dining table is booked automatically. Thur Fri or Sat the evenings music is FREE for arrivals before 8pm, arrivals from 8pm onwards subject to £6pp music charge - Please cancel your table booking if you are not coming. Thank you.
A sample of upcoming events