Le QuecumBar presents:
FROM Baltimore - U.S.A: Ultrafaux & Friends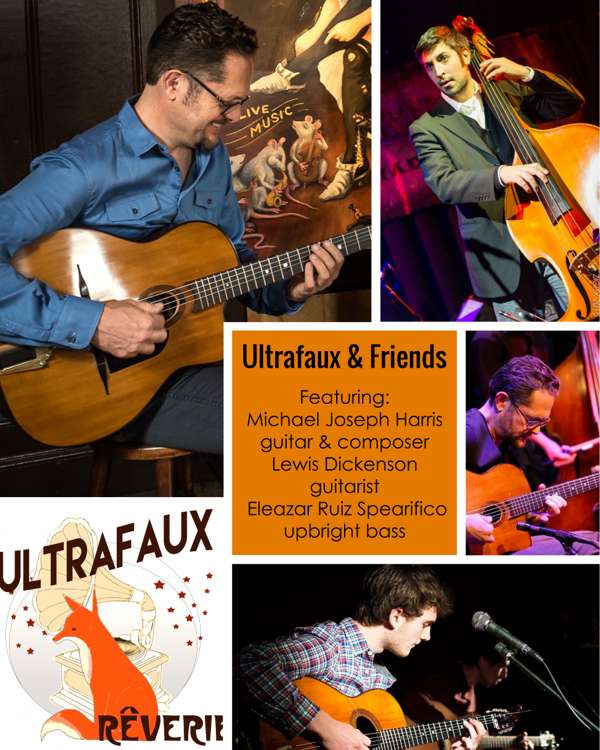 Prestge Performance Concert Ultrafaux A flying visit from Baltimore USA - joined on stage by Eleazar Le QuecumBars Tuesday Jam lead bass player https://www.youtube.com/watch?v=x5rZwVLMnn0
Ultrafaux performs original music which is influenced by Romani and Balkan folk, Jazz Manouche, swing, funk, blues, and French musette. The band is an acoustic powerhouse of two guitars and upright bass that has thrilled a wide variety of audiences from Jazz festivals to classical concert halls and rock clubs since their first CD release in 2014. Sami Arefin and Michael Joseph Harris trade dazzling leads and harmonize together on rich Gypsy­ inspired melodies.
Ultrafaux has been featured on WPFW, WTMD, WDVX, CBS News, in The Baltimore Sun, and Baltimore Style Magazine, to name a few. They have performed at the John F. Kennedy Center for the Performing Arts in D.C., Charm City Django Jazz Festival, The French Embassy, twice on Knoxville's Blue Plate Special, and were a featured act for the IMT Folk Series in Maryland. Michael Joseph Harris created Baltimore's 1st annual Charm City Django Jazz Festival which featured Ultrafaux for two back to back nights of sold out shows. Ultrafaux will be featured at Django By The Sea in Maine October 8, 2016 with Rhythm Future Quartet, and at the Midwest Gypsy Swing Festival in Wisconsin September 10, 2016. Their song "Latcho Dromo" was chosen by acclaimed producer Jon Larsen to be featured on Django Festival #9, an annual compilation of the best gypsy jazz music worldwide released by Hot Club Records in 2015, and their video "Ultrafaux & Hot Club of Baltimore," produced by Michael Joseph Harris has gained a wide audience with over 40,000 views. PRESS QUOTES: "One of the most talented Baltimore musicians out there." ­ Marc Shapiro, Baltimore Style Magazine "We sometimes forget that jazz was first and foremost a people's music meant for dancing and socializing. One evening with Ultrafaux demonstrates why jazz has been so irresistible to listeners all over the world." ­­ Ken Avis, Baltimore Jazz Alliance "Ultrafaux breathes new life into jazz, while holding onto the sense of nostalgia that makes this genre so timeless and appealing in the first place. This is music you didn't know you were missing, and it's wonderful to hear it anew." ­­ Sam Sessa, WTMD "These musicians can handle the complexities and breakneck speeds of Roma swing, but what makes Ultrafaux really special is that they play original music. We can come close to the experience in 2016 of what it must have been like to hear Django Reinhardt play 'Minor Swing' for the first time in 1937." ­­ Tom Cole, WPFW & NPR "Ultrafaux brings the swinging manouche style bang up to­to­date. The all instrumental album is true to the roots of Gypsy jazz, employing many of the trademark elements...including virtuoso guitars and liquid, swinging bass lines." ­­ Ken Avis, Baltimore Jazz Alliance "Ultrafaux's original compositions compare favorably to classic Hot Club tunes. They update the tradition and bring the swing into the 21st century." ­­ Paul Hartman, Detour, WTMD SOCIAL MEDIA: Ultrafaux Band Page: Michael Joseph Harris: Twitter: Instagram: https://www.facebook.com/UltraFaux https://www.facebook.com/MichaelJosephHarris https://mobile.twitter.com/UltraFaux https://www.instagram.com/baltimanouche/ BAND WEBSITE: www.UltraFauxMusic.com AUDIO: https://ultrafaux.bandcamp.com VIDEO: Ultrafaux & Friends HD Concert featuring Alexis Tantau: https://youtu.be/jqr2WkuRPbA Ultrafaux HD Concert IMT Folk Series: https://youtu.be/N6mrNYeN82Q Ultrafaux CD Release Show @ 8x10 Club: https://youtu.be/AgE_Gdm3j9s FEATURES: Baltimore Style Magazine: http://baltimorestyle.com/20048/off­the­grid/ The Baltimore Sun: http://www.baltimoresun.com/videogallery/bal­local­duo­ultrafauz­jazz­guitar­and­django­reinheardt­2016022 4­premiumvideo.html All About Jazz: http://www.allaboutjazz.com/php/article.php?id=53502 CBS News: http://baltimore.cbslocal.com/2016/02/23/tuesday­feb­23­2016/ WYPR: Interview with Michael Joseph Harris (Ultrafaux), Olivier Kikteff (Les Doigts de l'Homme), & Marian Badoi (Marian Badoi Trio) http://wypr.org/post/gypsy­jazz­french­tradition­alive­baltimore#stream/0 Django Festival #9 ­ Produced by gypsy jazz legend Jon Larsen: Ultrafaux's song Latcho Dromo featured on the only annual international Django Jazz compilation https://youtu.be/PFu4Bgca_ac
Baltimore Jazz Alliance : https://issuu.com/baltimorejazzalliance/docs/bja_newsletter_february_march_2014_ WTMD Baltimore Hit Parade interview w/ Sam Sessa 2015 (no archive) WPFW interview w/ Tom Cole (no archive) WDVX Blue Plate Special Knoxville TN 2014 & 2015 (no archive) WBIR TV Knoxville TN (no archive) https://www.facebook.com/search/top/?q=WBIR­TV%20ultrafaux Woodshed Archive, Columbia SC 11/18/2015 https://woodshedarchive.org/event/ufaux2015­11­18/ Booking Contact: Public Relations Director: Artistic Director: Merchandise Distribution: Jazz Beyond Borders Paula Phillips Michael Joseph Harris Beverly Carr canada.arts@gmail.com paulaadphillips@comcast.net MJHMusic@gmail.com merch@ultrafauxmusic.com Band Contact: Michael Joseph Harris info@ultrafauxmusic.com Cell Phone: 443­844­2123 BAND MAILING ADDRESS: MJH Music 522 Chestnut Hill Ave. Baltimore, MD 21218