Le QuecumBar presents:
From Greece: ManoucheDrom Trio feat. Alexis Stenakis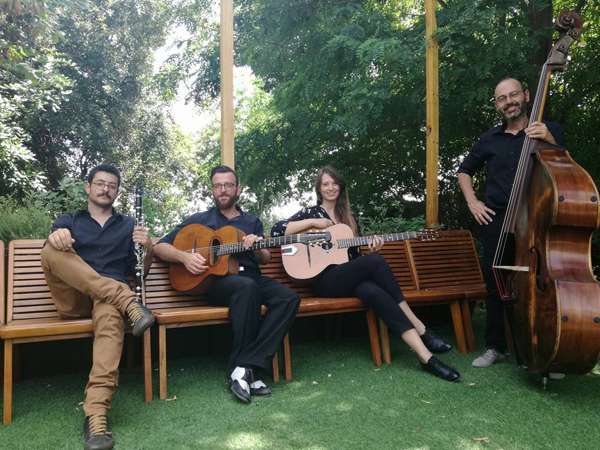 Manouchedrome Trio were created in June 2014 in Greece, inspired by Django Reinhardt's music. They have been playing jazz manouche since 2011, having their first experience with Gypsy jazz music at Samois-Sur-Seine Django Festival, in France, the location where Django Reinhardt lived. The environment of Samois and the musicians they met there, were their main motivation to start playing Gypsy jazz. Manouchedrome Trio have performed in various venues all over Greece, including the prestigious Athens Concert Hall (concert ''Dedicated To Django'', September 2017), Stavros Niarchos Foundation Cultural Center (October 2017), Athens Technopolis (2017), The Numismatic Garden of Athens, and many more. They have participated in the Petit Paris d'Athens Festival (2015 – 2017), Athens Djangofest Festival (2014 – 2017), and Park Festival (2015). In Greece, they have appeared on national tv, and national and local radio stations, promoting gypsy jazz music and original compositions. Their first Album, entitled ''Eres Un Angel'' , includes original gypsy jazz compositions, and was released in December 2015 by FM Records. They are currently recording their second album, to be released in late 2017/early 2018, by FM Records. An original track that will be included in the upcoming album, entitled ''There'', was exlusively released in May 2017. Manouchedrome Trio featuring Alexis Stenakis on the clarinet & piano focus on approaching gypsy jazz music their own way, with respect to the traditional gypsy music of Django Reinhardt, and aim to make it popular to the Greek audience and beyond. Their repertoire includes original compositions and covers in the music style of bossa nova , bolero , valse and swing.
Manouchedrome Trio are:
Demetrio Psallidas – Gypsy Guitar Elena Malamou – Rhythm Gypsy Guitar Dimitris Partsaklos – Upright Bass Alexis Stenakis – Clarinet & Piano