Le QuecumBar presents:
DIGGA DIGGA DUO (Trio) vintage music fun/vocals
Le QuecumBar, London, GB
£10 ADVANCE - £13 CASH OTD We reserve the right to charge a minimum spend as per t&c
Entry Requirements: 18+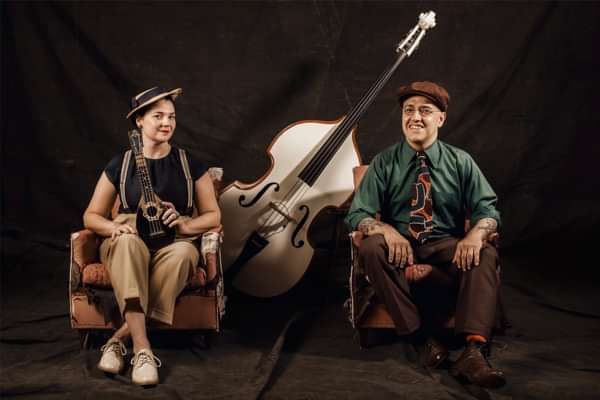 A rare treat - Digga Digga Duo is usually a duo ensemble formed by Ana Bandarra - ukulele, voice, kazoo - and Eduardo Vilamaior - double bass, voice and kazoo.
To make up the Trio July 22nd with Tim Ellis on Guitar and July 23rd with Duncan Menzies of Harp Bazzar on Violin.
The couple has been diving deeply in the American songbook in search for real musical pearls from the beginning of 20th century and working on special arrangements to suit their format. Despite being a couple for more than 22 years they have been playing together since 2012, mostly in Rio de Janeiro where they are based. But over the last years they had the opportunity to travel to perform in other countries like Portugal, Argentina, UK and Ireland. The ukulele is a hawaiian instrument created after portuguese influence - just like the brazilian cavaquinho - that was very popular in the USA during the roaring 20´s and likewise the double bass it has 4 strings and it´s made of wood. Apart from that are the contrasts among these two instruments: on the visual aspect they have totally different sizes and they also are the opposite on the way they sound. The ukulele has a higher pitched sound, brightening the chords while the double bass sustains the harmonies with its deep low warm sound.
Furthermore the use of ludic kazzos – situated halfway between a toy and an actual instrument - gives the ensemble two extra voices for solos and fun improvisations. The repertoire choice is mostly focused on popular songs from the vo-do-de-o days, that were usually classified as "foxtrot songs" on the original sheet music covers and old shellac 78´s labels. Many are Tin Pan Alley favorites from the old days ( Abba Dabba Honeymoon, By the Beautiful Sea, Chinatown, my Chinatown ) , some were composed for Broadway shows and movies in the 20´s and 30´s ( Digga Digga Do, Oh Lady be Good, Exaclty like You, Blue Skies, Do Something ), and others are old blues and ragtime songs ( After You´ve Gone, I Ain´t Gonna Give Nobody None of my Jellyroll, Everybody Loves My Baby ). Among their mains influences are artist like Cliff Edwards, Johnny Marvin, Aileen Stanley, Sophie Tucker, Ruth Etting, Annette Hanshaw, Helen Kane, Lee Morse, Ethel Waters, Bing Crosby, Al Bowlly, Nick Lucas, Whispering Jack Smith, Mills Brothers, Cats and the Fiddle, Ada Jones and Billy Murray.