Le QuecumBar presents:
It's PARRRRRTY TIME WITH PETER GOLDING'S Cafe Django, Hot Harmonica and Gypsy Swing Band!
Le QuecumBar, London, GB
£9 in advance/£12 on the door We reserve the right to charge a minimum spend as per t&c
Entry Requirements: 18+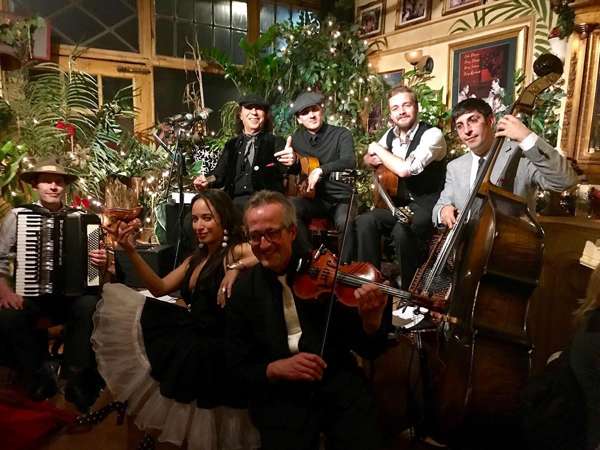 Peter Golding's Cafe Django is dedicated to the dynamic spirit of Gypsy guitarist Django Reinhardt and violinist Stephane Grappelli's Hot Club de France's famous music. Cafe Django through the years has played various well known London venues including The Chelsea Arts Club, The Arts Club-Dover Street, Momo's, Le Quecumbar, L'Escargot-Soho, The National Harmonica League Convention and Brasserie Toulouse Lautrec etc.
Cafe Django's 'Party Time' at Le Quecumbar last year was a Full House so we are looking forward to the same this year too.!! SO EARLY BOOKING IS RECOMMENDED !!
PG says "With Cafe Django I have the privilege to play with some of UK's best musicians and whilst true to the soul of the music..we also love to include Blues..Swing..and Good Time music with the same fervour and integrity as gypsy jazz..plus sometimes a couple of Count Basie or Ray Charles numbers.! "It is one of the world's few (maybe only ) harmonica led gypsy swing bands..Especially with its motto "It's Party Time"!!
In addition to his love of playing authentic blues and swing it was Larry Adler the harmonica virtuoso who recorded four tracks with Django that further influenced Peter's love of gypsy jazz. He was later proud to be invited to play at the Celebration of Larry Adler's Life and put together a group with the great guitarist Diz Disley who had re-introduced Stephan Grappelli to the UK in earlier days.
Café Django Band Members • Peter Golding - Harmonica & Vocals • Jake Maun - Guitar • Tim Ellis - Guitar • Frank Bidulph- Violin • Pete Watson - Accordion • Eleazar R Spreafico - Double Bass • Christine Lockhart - Vocalist .