Le QuecumBar presents:
Django's Birthday -Gary Potter wizard of Swing feat. Feigeli Prisor - Noah Schafer - Ewan Bleach
Le QuecumBar, London, GB
£23 advance £25 cash door - we reserve the right to make £25pp food/drink spend
Entry Requirements: 18+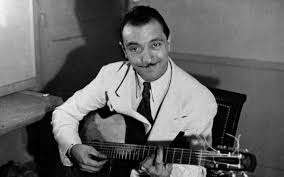 A second fabulous night headed up by UKs finest wizard of Swing the legendary Gary Potter on guitar plus Dutch Gypsy masters Feigeli Prisor on guitar Noah Schafer not sure of spelling on double bass and UKs Ewan Bleach - multi instrumentalist - clarinet, vocals etc
Every year we celebrate Djangos birthday in style we are lucky this year to have a stella line up with 4 world class players to entertain you the Django way traditional Swing guitar as it should be ... Hot rythms - melodic swing - sweet vocals - lyrical seductive swing arrangements and stunning improvisations from Gary, Feigili and Ewan all supported by Noah (brother of Paulus) on stonking double bass Be prepared to be swinging in your seats with this first time unique line up
For those long time fans out there here is some original footage of Gary Potter 1990 from the documentary Djangos Legacy https://www.youtube.com/watch?v=Su5zfh---6k Seen jamming with Gypsy Jazz legends: Serge Krief, Stochelo Rosenberg, Bireli Lagrene, & Babik Reinhardt jamming .........................................