Le QuecumBar presents:
Valentines Concert Cabaret Special with Cafe Manouche Quartet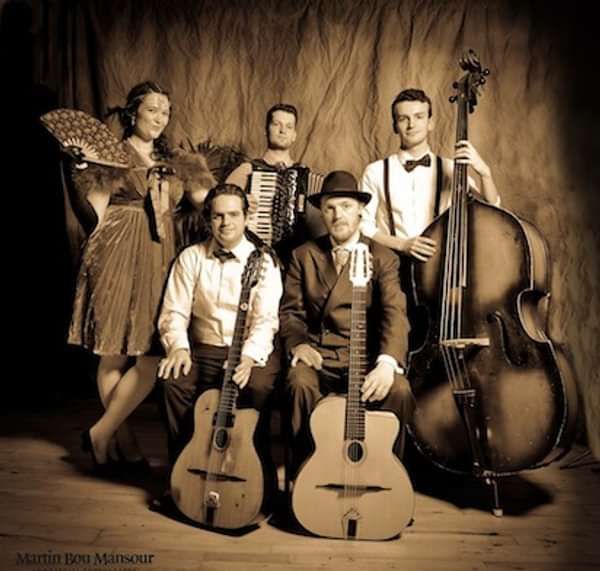 Valentines Day We were voted as one of the most romantic places in London for a first date! Music Mood Wine and Food
Tonight SOCIETY SOIRÉE, CAFE CABARET, DINNER - Come and get loved up to Cafè Manouche: a young Gypsy jazz & swing band formed by three brothers and feature sultry vintage style female vocals. Playing music from the 1920s to the 50s, including Parisian Waltzes, hot swing and touches of latin and bossa nova all played in the distinctive style of Gypsy jazz guitar legend Django Reinhardt, on this night Cafè Manouche will delight you with a Romantic repertoire interprated by the enchanting and powerfull Natalia's Voice.
music performance 7.15 pm- 8. 15 pm and 9.15 pm - 10. 15pm
♥'Love is in the air'! ♥ Why not have a lavender, rose or peach Belini on arrival ...choose a sumptous wine sit back
You can book your tickets for either the early or late sitting (the £15 ticket money – goes directly to the musicians):
Music from 7.15PM
1st sitting: 6.30pm - 8.30pm,
2nd sitting: 9.00pm to finish
Minimum spend on food is £35 pp for the 3 course set meal (drinks not included)
.......
£35 set 3 course Menu French Onion Soup Garlic butter snails Smoked Salmon and horseradish sauce Squid Pan seared in garlic butter and chorizo Fried Camembert and strawberry Endive apple blue cheese walnut salad
Le QuecumBar Navarine of Lamb Over baked whole Sea Bream Vegan Med vegetable tart Traditional Savoie Tartiflette Duck confit V Cranberry and Brie Plait
Pecan Roulade Tarte Au Citron Tarte Au Pomme Home made Tirimasu Home made baked lemon cheesecake
We reserve the right to swap menu items
We have had several couples propose here and subsequently get married and celebrate their annivesary here.
A sparkling romantic night of chic 30's 50's elegance, fusing Gypsy-jazz rhythms with chanson favourites. .... love causing a foot stomping hot club stir and to set the romantic scene.
Tickets @ www.quecumbar.co.uk