Le QuecumBar presents:
Jimbino Vegan & The Jazz Cannibals
Le QuecumBar, London, GB
£10 advance, £12 cash on the door We reserve the right to charge a minimum spend of £25pp on food & drinks
Entry Requirements: 18+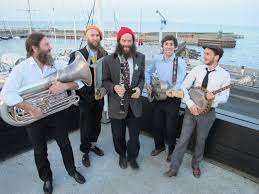 THE JAZZ CANNIBALS specialise in New Orleans jazz and Jimbino Vegan's original songs, but their wide repertoire also includes Caribbean and Creole numbers, French chanson, musettes and waltzes, Russian and Eastern European pieces, chorinho, blues, and ragtime all played with their unique style and elegant, joyous and wacky sense of fun.
Due to their shared passion for old jazz they are very popular with the swing dance community and well known for their unique repertoire, exciting arrangements, skilful playing and distinctive performance style. JAZZ CANNIBAL shows are joyful occasions full of passionate playing and animated fun. They have been known to play encores lasting from between 10 minutes and 2 hours! Over the last 4 years JIMBINO VEGAN AND THE JAZZ CANNIBALS have been invited to play at many international swing dance, jazz, street, arts and theatre festivals throughout Europe. They usually string their big shows together with smaller gigs in bars, cafes, clubs, on the streets and community centres. They simply love performing and sharing their music with people of all ages and backgrounds and especially performing to folks who have never heard old authentic jazz or even acoustic music! Each year they usually spend between 2 and 3 months touring.
We're looking forward to a rambunctious night!