Le QuecumBar presents:
Polymath King of Gypsy music - Tcha Limberger Trio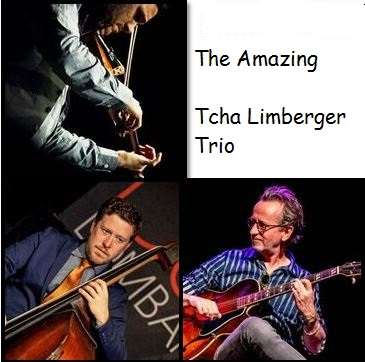 Wine and dine to Violin and guitar mastery, swinging Reinhardt classics mixed with traditional European Gypsy repertoire - music and enchanting vocals
Undeniably the most loved and respected Gypsy musician on the planet, violin superstar Tcha Limberger, recently accorded the title by The Times "Polymath King of Gypsy music" joins forces with celebrated rhythm section of many current jazz line-ups London guitarist Dave Kelbie and Sebastien Girardot, bassist from Pairs. Limberger, blind since birth, and a spectacular multi-instrumentalist, known as much for enchanting performances with his Budapest Gypsy Orchestra and Kalotaszeg Trio as he is for being the world's greatest Gypsy jazz violinist, is an unstoppable force in the world of world, folk and jazz music.
The polymath virtuoso Tcha Limberger is the king of gypsy music SUNDAY TIMES UK Tcha Limberger seems to be made entirely out of music THE OBSERVER UK
He plays it all ..Gypsy Swing, Balkan, Swing, Traditional Gypsy songs and tunes etc and sings in both English and his Gypsy language songs of tradtion and more Always a personality on stage warm talented hypnotic and charismatic.
https://tchalimberger.com https://lejazzetal.com/dave-kelbie/ https://lejazzetal.com/sebastien-girardot/
When necessary on concert nights we reserve the right to implement a minimum spend of £25pp on food and drink as the musicians retain all the ticket revenue and in order to bring such amazing artists to our small independant venue