Le QuecumBar presents:
Valentines Concert Cabaret Special with Cafe Manouche Quartet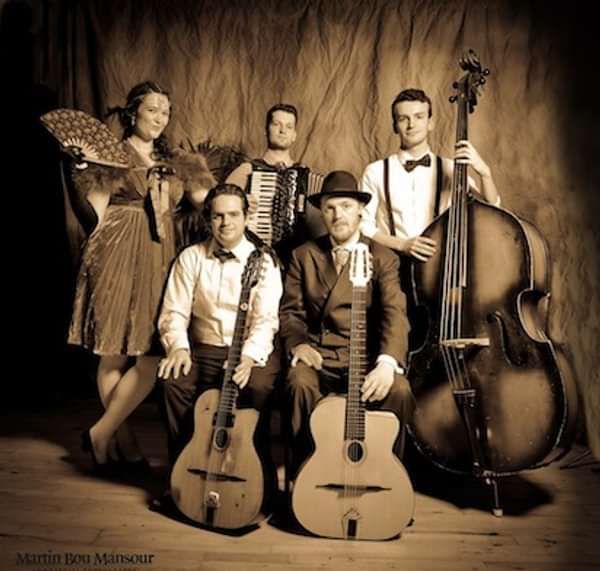 Valentines Day - Limied spaces Voted the most romantic place in London for a first date! Music Mood Wine and Food and romance ..
Tonight Cafe Manouche with fab female vocals SOCIETY SOIRÉE, CAFE CABARET, DINNER - Come and get loved up to Cafè Manouche: a young Gypsy jazz & swing band formed by three brothers and featuring sultry vintage female vocals from sassy Natalia.
A sparkling romantic night of chic 30s 40s elegance, where Gypsy-Swing rhythms fuse with swing favourites, music from the 1920s to the 50s, including Parisian Waltzes, Hot Swing and touches of Latin and Bossa Nova all played in the distinctive style of guitar legend Django Reinhardt causing a foot stomping hot club stir and setting the romantic scene. Cafè Manouche will delight you with a Romantic repertoire interprated by the enchanting, seductive and powerful voice of Natalia.
Wine and dine in our romantic Parisian atmosphere where several couples have proposed, subsequently married and now celebrate their anniversaries here.
The £35 course set menu is mandatory as the minimum spend on food tonight is £35 pp - drinks not included - plus 15% service
1st sitting: 6.00/6.30pm - 8.30pm, music performance 7.15 pm- 8. 15 pm
2nd sitting: 9.00pm to finish music performanc 9.45 pm - 10. 45pm
♥'Love is in the air'! ♥ Why not have a lavender, rose or peach Belini on arrival ...choose a sumptous wine and sit back and soak up the evenings entertainment
You can book your tickets for either the early or late sitting (the £15 ticket money – goes directly to the musicians)
£35 mandatory 3 course Menu FOREPLAY Smoked salmon slices rolled and stuffed with horseradish coleslaw Endive, apple, blue cheese and walnut salad Pan seared buttered garlic squid with chorizo V Onion soup V Catalan mushrooms with chillie garlic and parsley Ripe melon and Serrano ham salad garnish
INTERCOURSE with vegetables, potatoes or salad Le QuecumBar red wine Venison Daube Salmon fillets poached in Tarragon butter and lemon marinade Duck confit Pork fillet medallions in honey & B-B-Que sauce V Aubergine Bake Vegan Med. vegetable tart Traditional Savoi Tartiflette with lardons & V option with mushrooms
AFTERGLOW Tarte Au Citron - Tarte Au Pomme - Home made Tirimasu Creme Brulee - Chocolate Mousse - Eton Mess Coffee, Liqueurs, Brandy, Calvados, Port, Whisky all priced separately
We reserve the right to change items
As we only have one card machine please bring cash for faster bll payment 15% service will be added to the bill