Le QuecumBar presents:
Le Q 19th B'day with Robin Nolan Trio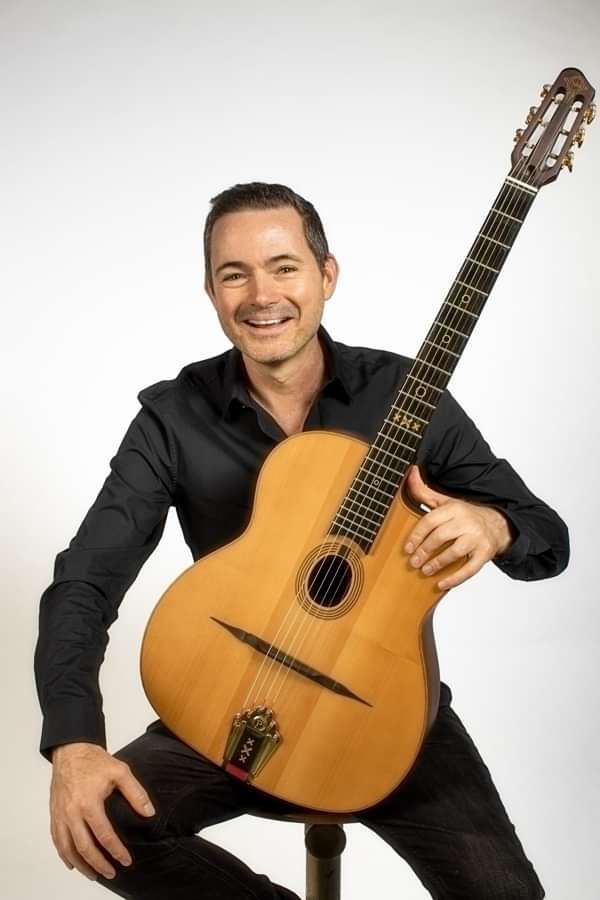 I was gutted to announce 15 Sep that Jimmy Rosenberg could not make the trip to UK - he will not be allowed to leave Holland unvaxxed
One of our valued Patrons - Robin Nolan has jumped in to save the day and will be here as a trio with Pete Thomas on bass and Chris Quinn on rhythm guitar, as well as our special guests Lana-May Hodge on vintage clarinet and violin vixen Noreen Cullen on violin.
Robin is a leader in this genre of Gypsy Swing/Jazz, a world class player who is one of the world's best known and most admired Gypsy jazz guitarists, and has been praised for his musical genius and creativity by Willie Nelson, Rolling Stones bassist Bill Wyman, and the late George Harrison.
Legendary in the Django Reinhardt world, Robin has headlined every major Gypsy Jazz festival across the globe he will grace our stage and play Gypsy Swing/Jazz in his own unique style.
Robin became one of George Harrison's favourite guitarists and was his 'secret weapon' at many a party thrown at his English country estate Friar Park.
"In these days of 'cackophony' it's great to hear some proper music"
George Harrison
"Robin Nolan is so amazingly good."
Bill Wyman
"Robin plays a mighty fine guitar!"
Willie Nelson
"You play so beautifully Robin!"
Hank B. Marvin
Listen to Robin Nolan Trio & Jimmy Rosenberg!! 🎸 For Sephora 🎸
Robin Nolan Trio
With 4 million views on Robin's YouTube channel, Gypsy Jazz Secrets, Robin Nolan is without doubt the world's leading authority when it comes to passing on the knowledge of all things Gypsy jazz. Alongside a back catalogue of pioneering album releases and a reputation as one of the best live acts in the world of Gypsy jazz he's built up a massive and ever growing fan base of musicians and music lovers alike. Robin and his trio have played the Django Reinhardt festival in Samois numerous times, he's travelled the globe for the last 2 decades taking in shows at many of the jazz world's top venues and festivals; North Sea Jazz, Montreax Jazz Festival, London's Royal Albert Hall, New York's Jazz at the Lincoln Centre to name a few. His celebrity endorsers are a who's who of the guitar god world, "The Beatles" George Harrison named him as his favourite guitarist! "The Rolling Stones"' Bill Wyman has had him in his band, Hank Marvin joined him for his recent Gypsy Jazz Secrets Australia guitar retreat. Prepare to be amazed at Robin's beautifully lyrical and breathtakingly virtuosic musicianship.
Special guests - Noreen Cullen the violin vixen and sultry Lana-May Hodge on sweet and raw vintage clarinet and maybe other surprises ...on stage
Truly a stage full of talent.
19 Swinging years! - and a night to remember and celebrate!
We have waited eagerly for Robins return as he resides in Holland....
Probably the longest version of Dark Eyes Gypsy anthem - A collaboration of 53 musicians worldwide, keeping the Swing going - our Patron Hank Marvin jumps in at 4.00 min, at 4.40 our Patron Robin Nolan jumps in
Wine, dine, and be entertained by the virtuosity of one of the best Gypsy Swing/Jazz guitarists on the circuit, an enthralling journey through his incredible musicianship in the stunning atmosphere of the UKs only dedicated Gypsy Swing venue.
As it's our 19th Birthday there will be a FREE Le Q Records CD on every table, a memory of one of our own live recordings and a complimentary Bellini on arrival, to get you in the MOOD
We have non-alcoholic beer, gin and wine for those of you who may be driving to get here but we hope on this special occasion the bubbles will flow ...
We are OPEN and serve food from 6pm - tables allocated on arrival so get here early for the best seats for the cabaret dinner Hot Club Swing show.
TERMS AND CONDITIONS AND INFO YOU NEED TO READ
Buying a ticket for any concert automaticelly reserves your table to dine, you DO NOT NEED TO BOOK A TABLE FOR TICKETED EVENTS HERE
Tables are allocated on arrival - so arrive early for better tables
No dogs are allowed
This is a wine dine cabaret concert event
Please bring cash to speed up bill payments as we only have one card machine.
Take advantage of our early bird meal deal order between 6-7pm 3 course meal and glass of wine £29 pp plus service - CASH ONLY
Please bring cash to speed up the payment process
Doors open at 6pm MUSIC approx. 8pm - 11pm open until 12.30 am so you can mingle with the band - buy CDs and perhaps grab an autograph
Please be advised on such very special nights tables of 2 may have to share and 1's - if you can get together with friends for a table of 4 let me know when you have booked tickets
We reserve the right to implement a minimum spend on food and drink of £35pp - as all the ticket money goes to musicians.
We offer a full 3 course menu with selections for all - our only revenue is from food and drink to ensure high quality live music and the upkeep of the venue that allows you to see such stars up close and personal as this music should be seen and appreciated in an intimate and authentic vintage atmosphere.
PURCHASING TICKETS FOR THIS EVENT - CONFIRMS YOU HAVE AGREED TO OUR TERMS AND CONDITIONS and min spend