Le QuecumBar presents:
It's PARRRRRTY TIME WITH PETER GOLDING'S Cafe Django, Hot Harmonica and Gypsy Swing Band!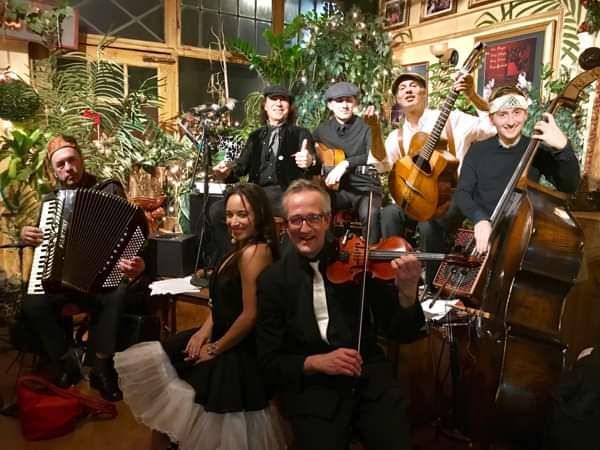 Peter Golding's Cafe Django 'Gypsy Jazz & Hot Harmonica Swing' Seven Piece Band is inspired from the unique spirit of Gypsy guitarist Django Reinhardt and the Hot Club de France's famous music from the 30s and 40s but now also includes Blues, 50s Big Band Favourites, Good Time Music and Ragtime etc, to get the audience jumping ! Its start up signature number is "Let The Good Times Roll" ..!
Enjoy with friends and buy a discounted 4 person ticket @ £36
Cafe Django is one of the world's few (maybe only) harmonica led Gypsy Swing/Jazz bands… Our Motto.. "It's Party Time" !! .
PG says "With Cafe Django I have the privilege to play with some of UK's best musicians of the style and whilst true to the soul of the music we also love including some blues..big band..and other good time music with the same fervour and integrity as Gypsy Swing/Jazz."
Café Django Band Members • Peter Golding – Harmonica & Vocals • David Ahmed - Guitar • Jake Maun - Guitar • Frank Biddulph - Violin • Pete Watson - Accordion • David Miles - Double Bass • Christine Lockhart - Chanteuse Extraordinaire. www.cafe-django.com
Le QuecumBar says.."For several years Cafe Django's November gig has been a Full House..with the place jumping to their red hot performance..so early booking is recommended.. "
This is a wining dining experience OPENING HOURS 6.00 - 12.00 MUSIC 8.30 -11.30
Take advantage of our Early-bird special: 3-course meal and glass of wine for £29 plus service - this is a cash deal - order before 7pm.
TERMS AND CONDITIONS AND INFO YOU NEED TO READ
Buying a ticket for any concert automaticelly reserves your table to dine, you DO NOT NEED TO BOOK A TABLE FOR TICKETED EVENTS HERE
Tables are allocated on arrival - so arrive early for better tables
No dogs are allowed
This is a wine dine cabaret concert event
Please bring cash to speed up bill payments as we only have one card machine.
Please be advised on such very special nights tables of 2 may have to share and 1's - if you can get together with friends for a table of 4 let me know when you have booked tickets
We reserve the right to implement a minimum spend on food and drink of £25pp - as all the ticket money goes to musicians.
We offer a full 3 course menu with selections for all - our only revenue is from food and drink to ensure high quality live music and the upkeep of the venue that allows you to see such stars up close and personal as this music should be seen and appreciated in an intimate and authentic vintage atmosphere.
PURCHASING TICKETS FOR THIS EVENT - CONFIRMS YOU HAVE AGREED TO OUR TERMS AND CONDITIONS and min spend