Le QuecumBar presents:
Djangos Birthday Celebration Le Q Allstars finest Gypsy Swing players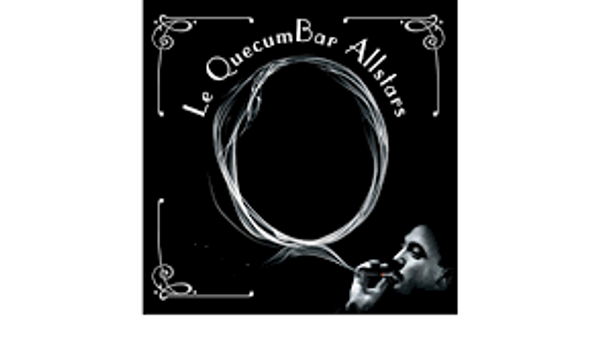 UPDATE 13 Jan 2022 - Djangos Birthday Celebration with UKs finest Django style wizard of Swing GARY POTTER Quartet
Sadly Gary has been tested positive and will not make the show - that will still go on with the remaining fabulous home grown Le Q Allstars who will Swing like Django....they are some of the most talented Swing musicians around ....
The Hot 5! • Ducato on guitar – Our Gypsy Patron - and very cool - hot hot player • David Ahmed on guitar - one of our original players here at Le Q a joyous infectious style of his own • Stonking Pete Thomas on bass • Violin vixen - Noreen Cullen – never fails to mesmerise and stun her audiences with her unique style, virtuosity and inate swing • Swinging babe - Lana May Hodge - on sizzling vintage clarinet – clarinet with real attitude and welly !
FREE Bellini on arrival - to get you in the mood ... The Le Q Allstars will play a unique and infectious impromptu sets of joy and energy jumping seamlessly from Django Gypsy style to straight ahead swing, never missing a beat or straying from the melody of many of Djangos tunes and much loved timeless swing numbers.
We celebrate Djangos Birthday for the 19th year at Le Q - we hope to see many fans of Django and Le Q and live music - joining us in this musical hot swing night.
...this will be an informal celebration of fun and joyous swinging music
Wine & dine with us and soak up an amazing swing filled Django celebration night. Be prepared to swing in your seats with this hot line up.
Please bring cash and support us and our UK pound - we are part of the "which?" cash friendly venues of UK
OPEN at 6pm when we also start food MUSIC approx 8pm - 11pm open until midnight
Licence restrictions - no entry after 10.30 but stay late!
Take advantage of our early bird deal 6-7pm 3 course meal and glass of wine £29 cash, plus service
Please be advised on busy concert nights tables of 2 may have to share with another 2 persons as we have limited tables/seats
Ticket holders are guaranteed a table for the whole evening
We reserve the right to implement a £25pp min spend on food and drink as musicians receive all the ticket money and our only revenue to keep bringing great music to our stage is our food and drink revenue
See you all Sunday! to celebrate ....with music mood wine and food Sylvia