Le QuecumBar presents:
Prestige Concert - Sarah Jane & Tony Remy - Upclose & Personal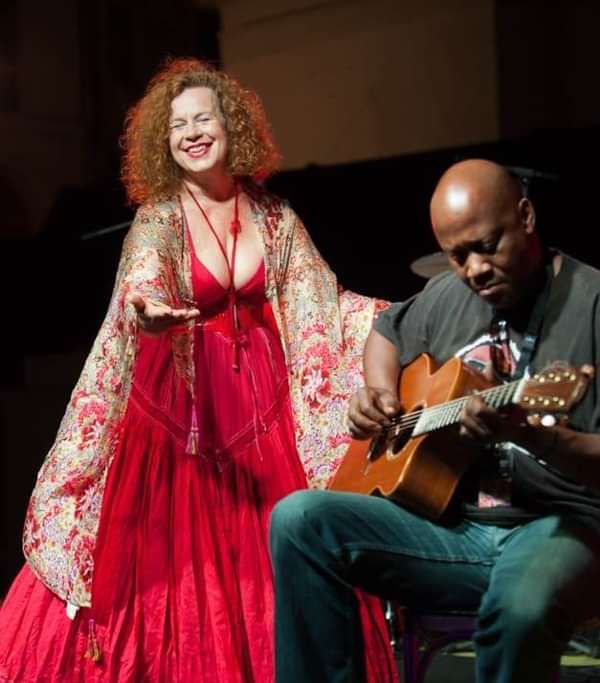 Ticket for 4 persons (e-ticket)
Sarah Jane Morris With Tony Remy
"…a transcendent mix of cold fury and compassion" THE OBSERVER "…this is a remarkable album…for its ambition, its sound world, its powerful stories and, at its centre, the breath-taking range and timbral richness of Sarah Jane Morris's voice.." JAZZWISE
Sarah-Jane Morris is the British soul, jazz and r&b singer who topped the UK pop charts for a month in 1986 (with The Communards' disco version of 'Don't Leave Me This Way') and then eloquently and joyously sidestepped the mainstream ever after. Morris's magnificent soul voice and emotional power would have brought multiple Grammy awards and celebrity status to most singers with her charisma and drive. But for over 25 years of a unique career, Morris has steered by her own star, not the music industry's, and that independence has brought her a devoted audience, inspired by her belief in the power of song to change hearts and minds. Sarah Jane is doing a series of intimate concerts accompanied by the virtuoso guitarists Tony Remy to promote "Bloody Rain" and her forthcoming tribute to John Martyn "Sweet Little Mystery".
John Martyn produced a canon of music that is both breathtakingly bold and achingly tender in its complex, atmospheric beauty. Martyn's music influenced a generation of his peers, friends and fans alike. His contribution continues to resonate many years after his passing. He has picked up endless acclaim worldwide from those fortunate enough to be seduced by his unique voice and instrumental mastery; and his music will live forever in the annals of popular music history. Sarah Jane Morris, through her own brilliant interpretive vocal talents, has picked up this torch to shine a light on this great musical maverick, illuminating his life's work, in her inspirational new show.
Tony Remy is one of the world's most exciting guitar players of any genre. His hard- edged rhythmically driven approach is enriched with jazz intuition and bluesy soul. Live on stage, his relentless invention and incredible raw energy can set the crowd on fire. The reputation he has gained within the jazz community worldwide is fast making a legend out of this North London musician. He has toured and recorded with a wide range of musicians which include: Courtney Pine, Jason Rebello, Julian Joseph, Freddy Hubbard, Jean Toussaint, Steve Williamson, Lonny Liston Smith, Lenny Whit, Omar, Steps Ahead, Gary Barlow, Simply Red, US3, Cleveland Watkiss, Pee Wee Ellis, Ronny Laws, Nelson Rangell, Connor Reeves, Maysa Leak, Down to the Bone, Matt Bianco, Karen Ramirez, Noel McKoy, Annie Lennox, Craig David, Icognito, M-People and many more.
Dedicated to the people of Africa and the music of that continent that has inspired so many artists for so long, Bloody Rain brings together a stunningly diverse group of performers. Among a raft of guests on the album are the Zimbabwe-born singer Eska, Senegal's Seckou Keita on kora, the Soweto Gospel Choir and Adam Glasser from South Africa, American/Israeli jazz trumpeter Avishai Cohen, the UK-Caribbean saxophonist Courtney Pine and the former James Brown arranger Pee Wee Ellis - and of course the soulmates from Morris's touring band including guitarist and co- writer of many of the new songs Tony Remy, Sting sideman Dominic Miller, Henry Thomas, Martyn Barker, Tim Cansfield and Adriano Adewale. On vocals Morris is accompanied on the album by a magnificent choir – well-known British jazz singer Ian Shaw, her son Otis Coulter, Janine Johnson, Lilybud Dearsley, Gianluca Di Martini and Roberto Angrisani. Bloody Rain is an ambitious collection of love-songs, tributes, warnings and protests that Sarah Jane regards as one of the best albums of her life.
Video Links
Into My Arms - https://www.youtube.com/watch?v=xupYrsRy3pw
Fast Car - https://www.youtube.com/watch?v=Xvl7pCrtIdg
Piece of my Heart - https://www.youtube.com/watch?v=ZT0DRLmiv7Y
Live at Ronnies - https://www.youtube.com/watch?v=OLhpchXZO6k
I Shall be Released - https://www.youtube.com/watch?v=KEE6KnoLfso
Don't leave me this way - https://www.youtube.com/watch?v=44zZFsgh1MU
Interview with Tony and Tim - https://www.youtube.com/watch?v=eK-dYbTi-_I about working with Sarah Jane.
Worldwide Reviews
"Her shows are always models of powerful songwriting, atmospheric ensemble playing and passionate delivery." John Fordham, THE GUARDIAN
"A voice that can excite shivers of passion and delight. Soaring, swooping, sensual and sophisticated, this voice is more than a style, it's a force of nature…Torch song, soul standard or smoky blues, the message remains constant: human passion with a dazzling voice." Neil Spencer, THE OBSERVER
"…her voice shines in these tales of life and love.. Throughout, Morris's independent spirit reigns supreme" BILLBOARD Magazine
"Mariah Carey may be mainstream America's idea of a diva, but Europeans take a more eclectic view of the role. The Englishwoman Sarah Jane Morris has earned her queenly status over twenty years of activity. " THE NEW YORK TIMES
"Her voice sounds so deep as to be almost scandalous. More than a great voice, she is several great voices." HARPERS & QUEEN
"A young, hip, deep-voiced British version of Sarah Vaughan" Q
"River deep, mountain high, Sarah Jane Morris has a magnificent, enormous voice." THE SUNDAY TIMES
"Those in the know rate her as one of the world's great jazz-soul vocalists of the past twenty years and more." VOGUE ITALIA
"When that throaty, extraordinarily-deep voice comes booming out of that pale, auburn-haired face, it's a bit like the possession scene from The Exorcist." EVENING STANDARD
"Sultry and uncompromising" MUSIC WEEK
"Provocative and unorthodox" NEW MUSICAL EXPRESS
"Sarah Jane Morris has the kind of extensive vocal range Carole King and others must have longed for." GAY TIMES
"Her excellent voice soars and swoops with the agony and ecstasy of the delta and smoky Chicago clubs." DAILY TELEGRAPH
"Morris carved a hefty European following by delivering standards and originals in a mighty, crinkly voice." THE VILLAGE VOICE
"One of the most outstanding contemporary singers this country has produced…it's her deep, earthy, soul-driven sexuality and the emotional resonance of her voice that produces comparisons with Janis Joplin, Bessie Smith and Sarah Vaughan." GET RHYTHM
"In a hot, sweating, packed room, she gave off vibrations which ranged from Janis Joplin to Julie London, the bar room of the former, the late night sensuality of the latter." FINANCIAL TIMES
"Morris does not interpret soul. She is soul, with all its passion and pain, joy and sorrow, hard times and highs." THE GAZETTE, MONTREAL
"Morris is a vocal titan, infusing her original songs with shades of funk, soul and blues." THE STAR PHOENIX, MONTREAL
Event Details
Doors open - 6 pm

Music begins - 8 to 8.30pm

Guests are expected to dine on the night - Take advantage of our early bird deal 6-7pm 3 course meal and glass of wine £29 cash

Ticket holders are guaranteed a table for the whole evening

A £25 pp minimum spend is applicable to food and drink on the night