Le QuecumBar presents:
The legendary ANTONIO FORCIONE ENTERTAINS YOU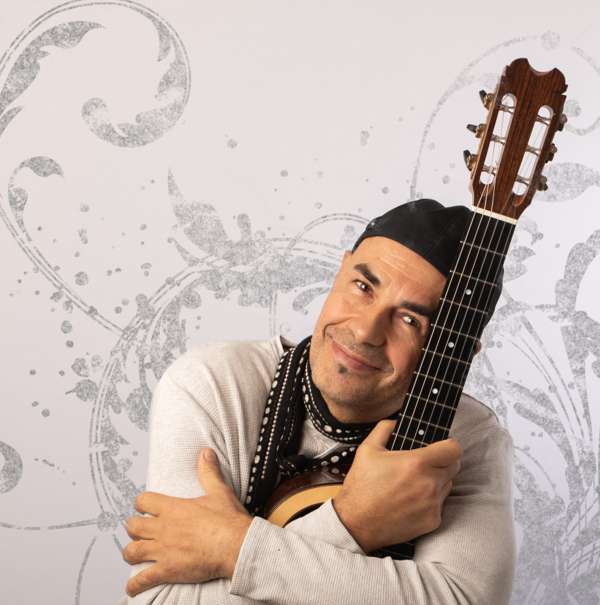 Four friends together (e-ticket)
As a reviewer, so expressively phrased it, He has the 'hands of a tarantula and the heart of a lion'.
We are very happy to be able to host Antonio Forcione for a second time this year!
A performer of genuine distinction -
Tonight, plus Dado Pasqualini on cahon/percussion '…Guitar heroics, yes, but with a touch of class.'(Clive Davis) The Times
Wine dine and be captivated by his talent and personality
As one critic put it "Imagine an Italian hybrid of Michael Hedges, John McLaughlin, meticulous precision and clarity of expression ... astonishing musical personality"
Antonio Forcione performs an enthralling one man, one night, musical journey, be up close and experience his unique and personal performance, especially for you, whilst you wine and dine and listen with your mouth full.
From the first moment Antonio walks on world stages to rapturous applause, a humble smile on his face, guitar in hand, you know you are in the presence of a true artist and are in for an evening with a touch of magic.
And as the first deep, warm, intense notes float through the audience, you can hear a pin drop and feel the sonic spell of his guitar weaving through the room.
Get a taster here .....https://youtu.be/SUdqS8FGN-A Artistic, intense and formidably inventive, Antonio is a performer of genuine distinction. Ever unpredictable, his is a celebration of the unexpected elements in life, a music of rare delicacy, humour and, not least, passion.
Here at Le QuecumBar you can experience 1930s Parisian soul in a small intimate setting, stress free, without packing, catching a flight or boat, all in the heart of Battersea - be up close to the artists performing, in a romantic ambiance made for such intimate performances of some of the worlds greats.
Antonio's impressive 20 albums and extensive international tours in festivals and theatres - both as a solo artist, in duo and with his acoustic quartet – have brought high critical acclaim from as far as Australia and Hong Kong to the Caribbean, Russia and all over Europe.
Dinner cabaret performance - your table is reserved and waiting for you with your ticket purchase - arrive early for stage side tables
More about Antonio.... Antonio's numerous awards line the shelf above the piano in his west London home, a far cry from his humble beginnings in a small village in southern Italy from where he worked his way through art school, eventually performing on the streets of London to win the Covent Garden Street Entertainer of the Year Award. This led straight to a BBC TV appearance and a European tour. He hasn't looked back since, nor has he ever forgotten his roots.
If you listen closely to his compositions you can feel the nostalgia for the village, the olive groves, the dusty streets and the first loves of a young boy.
Previous albums include collaborations with fellow performers such as Charlie Haden, Trilok Gurtu, Kay Eckhardt, Sabina Sciubba, Claudio Roditi, Rossana Casale...
OPEN at 6pm when we also start food MUSIC approx 8pm - 11pm open until midnight
Licence restrictions - no entry after 10.30
Take advantage of our early bird deal 6-7pm 3 course meal and glass of wine £29 cash
Please be advised on busy concert nights tables of 2 may have to share with another 2 persons as we have limited tables/seats
Ticket holders are guaranteed a table for the whole evening

We reserve the right when necessary to implement a minimum spend on food and drink of £25pp as all the ticket money goes to musicians, and our only revenue is from food and drink this is for the upkeep of the venue and our survival and to maintain quality acts that can be seen close up in an intimate and authentic atmosphere.