Le QuecumBar presents:
"The Magnificent 8" Original QuecumBar Allstars Octet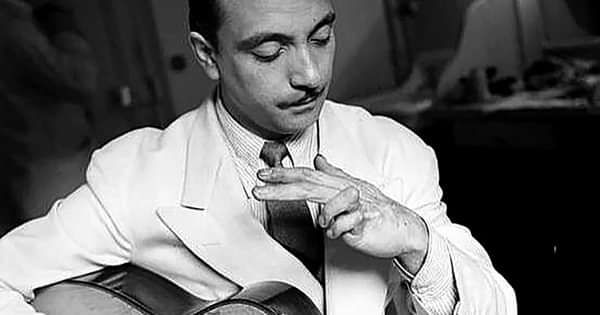 Friends together x 4 (e-ticket)
THE MAGNIFICANT 8 - The fabulous, Le QuecumBar Original Allstars Octet
Serve up a stonking steaming Gypsy Swing filled evening of entertainment, whilst you, wine and dine and are reminded why the Hot Club sound will always remain Hot - Swing is the key
Tonight we will also be giving away a souvenir CD from our own label Le Q Records
64 magic nimble fingers play tonight for your pleasure - musicians who have played here since the opening 17 years ago, a true testament to their dedication, talent and support - all true disciples of Django Hot Club Swing - prepare to be well swung and feel the groove of an exciting evening of irresistibly stomping authentic Gypsy Swing born in the great Parisiene 30s
THE MAGNIFICANT 8 - Le QuecumBar Original Allstar Octet Simon Moore Guitar Dave Ahmed Guitar Robin Katz Guitar Pete "Tiger" Shepherd Guitar Ducato Piotrowski rhythm Guitar Andy Aitchison on violin Jonny Gee on rocking double bass Dan Teper vocals and accordion
Le QuecumBar & Brasserie - the premier French live Gypsy Swing/Jazz venue since 2003 celebrates post covid with home grown musicians of many years - every one a star in their own right!
We have hosted new musicians and famous musicians all have supported and been supported in the aim of keeping Gypsy Swing/Jazz, Jazz Manouche alive and kicking in the heart of London, keeping the music live and accessible.
In 2010 we hosted the first ever Gypsy Jazz Festival of London - sold out, Jazz Manouche over 9 days in celebration of Djangos 100th Birthday - the first LONDON GYPSY JAZZ FESTIVAL.
Musicians receive all ticket money
therefore we reserve the right when necessary to implement a min spend on food & drinks of £25 pp