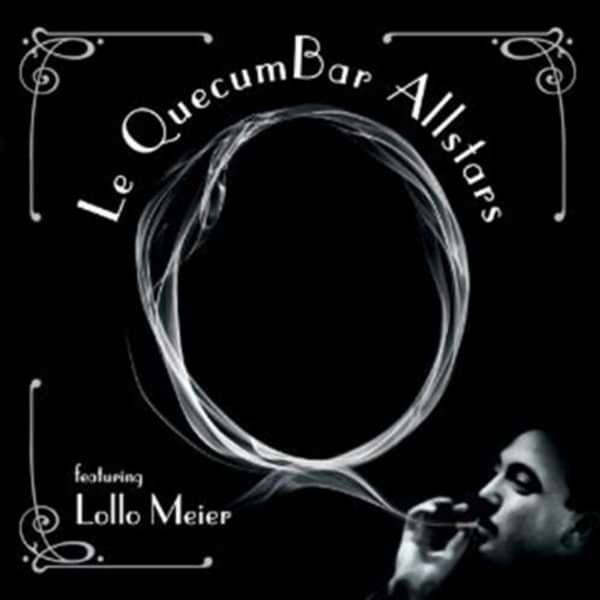 Le QuecumBar Allstars featuring Lollo Meier - Digital Download
6. Nuages (D. Reinhardt : Lyrics by S. Williams).wav
2. J'attendrai (D. Olivieri : G. Rastelli : E.Poterat).wav
10. Valse A Jesaja (T. Winterstein).wav
9. What Is This Thing Called Love? (C. Porter).wav
3. FA Swing (Patron John Jorgenson).wav
8. Mire Pral (M. Reinhardt : T. Schmitt).wav
12. Just A Gigolo (J. Brammer : T. Caesar : L. Casucci).wav
11. Moppin' The Bride (D. Reinhardt).wav
5. Billets Doux (D. Reinhardt).wav
1. Them There Eyes (M. Pinkard : W. Tracy : D. Tauber).wav
7. Melody For Le QuecumBar (Patron Lollo Meier).wav
4. Lilly (C. Forbes : T. Lauderdale).wav
LOLLO MEIER on solo guitar (track 7), Gypsy Swing guitar master, band leader and composer, this immensely talented Dutch Gypsy was raised on Gypsy Swing. Cousin of Fapy and Stochelo, his style and compositions are lyrical, melodious, joyful and sensitive, leaving a smile upon the lips and a taste of genuine Django. The dedicated melody for Le QuecumBar was given a honourable mention in the top 13 of 15,000 world entries in the ISC, USA. A man of style, grace and humour, we are honoured and proud to have Lollo as a valued friend, patron and supporter, special thanks for his composition where he is joined by Andre Donni on clarinet and Dominiue Pierard on rhythm guitar.
JONNY GEE on double bass (tracks 1-12)Jonny plays everything from tango, classical, baroque, jazz and salsa to Gypsy Swing. versatile, energetic and eclectic bass powerhouse and founder member of ZUM, an acoustic quintet that created Gypsy Tango fusion
STU BLAGDEN on solo guitar (tracks 2,3,4,5 (head and 1st solo), 6,8,9,10). Trained in rock, classical, Brazilian and jazz guitar, a fine and sensitive Gypsy waltz player with a fluid and creative style. He has toured Argentina with the World Guitar Festival, playing with Eduardo Fernandez and other Latin greats and has his own Gypsy Swing Quartet.
DUCATO PIOTROWSKI on rhythm guitar (tracks 1,2,3,4,5,8,9,10,11,12). A Rom Gypsy, top UK rhythm player of this genre he has performed with such legends as Moreno, Gary Potter, Matcho Winterstein, Lollo Meier and many other world renowned Gypsy players.
DAVID AHMED on rhythm guitar(tracks 1,4,8,9,11,12), a Dylanesue teen guitarist, followed by folk mandolin and tenor banjo, discovering 'Django's Legacy' switched him onto Hot Gypsy Swing, and he now performs with several Gypsy Swing ensembles.
JEFF MOORE on violin (tracks 1,4,5,8,9,12)A multi talented multi instrumentalist who plays piano, viola, accordion, and the violin since the age of 4. He has worked with Paul McCartney, Ravi Shankar, Jools Holland and has played the Proms, as well as touring the world as MD for the RSC.
HELENA JESSIE, vocals (tracks 1,4,6,9,12) 2007 'Best Jazz Singer' at the Irish World Award' ceremony, captivating, sultry, Celtic chanteuse Helena wows audiences with her mega hot swinging vocal and beguiling performances. She has played top venues in London, from Le QuecumBar to Ronnie Scotts and Pizza on the Park.
BERNIE HOLDEN on clarinet (tracks 1,2,3,4,9,11) and tenor sax(tracks 12). A clarinetist and saxophonist who plays everything from 1920s to contemporary jazz and Latin. From New York to Cork and the North Sea to Kathmandu this guys swings with the best.
BARRINGTON MEYER on rhythm guitar (tracks 4,12)He discovered the guitar at 17 and became a fan of Eddie Lang and Joe Venuti, with time getting into the Django sound and playing /recording with Gypsy Jazz Trio Rhythm Futur. He records and writes music.
PETE 'TIGER'SHEPPARD on solo guitar (track 5 (2nd solo), 11 ) and rhythm guitar (tracks 2,3,5). Fiery Pete cut his teeth on the Gypsy Swing style busking in France and learning from the Gypsies. He has played classical, funk and trad jazz , recorded with Jazz Gitanes and performed at the L'Esprit Jazz Manouche Festival.
TOBY NOWELL on trumpet (tracks 1,3,4,9,11,12) A fine multi instrumentalist, including Turkish soprano clarinet and guitar. arranger, transcriber and eclectic player for various bands such as the jazz quartet Blue Soup and electric Balkan band Bucimis.
DAN TEPER on accordion (tracks 2,3,5,10,11,) Picked up the accordion to busk with legendary street theatre band The Cosmic Sausages and found this 'fun box' offered an escape from the serious world of jazz piano and film scoring. He plays regularly with Gypsy jazzers Vipers Dream, and writes music for film and TV.